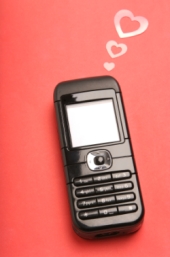 A Valentine's Day mobile application, which promises to send an romantic MMS message to a loved one, actually hides a money-making scheme that sends expensive messages to a Russian premium rate SMS number.
Security experts have come across a downloadable file called love_mms.rar, which itself contains a Java Archive (.JAR) called jimm2010.jar.
It's unlikely, of course, that anyone outside of the Russian-speaking world would be impacted by this malware, especially as its installation messages are impenetrable to most of us born in other countries:
Добро пожаловать! Вас приветствует мастер установки Jimm 2010! Нажмите "Да", чтобы продолжить инсталяцию.

Установка Jimm Сейчас будет произведена установка приложения Jimm 2010 на Ваш мобильный телефон. Нажмите "Да" чтобы продолжить инсталляцию.

Что такое Jimm 2010 Это красивые иконки и логотипы, прикольные смайлики (до 386 штук), смешные звуки, а также красивый внешний вид мобильной аськи!

Что нового в Jimm? Jimm Mobile от 10 января 2010 года, который включает в себя
многочисленные доработки и изменения мода ХаТТаВ.

Пользовательское Соглашение вступает в силу с момента выражения Вами согласия с его условиями путем продолжения установки программного обеспечения. Настоящее Соглашение формулирует юридические условия пользования Сайтом, предназначено для урегулирования взаимоотношений между Владельцем и Пользователем, и включает политику Сайта по поводу правил пользования услугами и контентом, размещаемым на Сайте, а также по поводу прав, обязанностей и ограничений, связанных с использованием услуг. Данное Соглашение распространяется на настоящих и будущих Пользователей Сайта. Это лишь краткое Пользовательское соглашение, его полную версию Вы можете увидеть на сайте [LINK] В процессе инсталляции Jimm Вы можете сделать пожертвование сайту 2 раза с помощью SMS на номер 5999. Стоимость каждого sms сообщения составляет до 95 рублей без НДС, в зависимости от Вашего оператора.
The last message warns that if you continue with the installation you have agreed you that if you continue then you have agreed to various terms-and-conditions, including that you will be stung twice to the tune of 95 rubles by sending an SMS to a short code number.
The Trojan horse, reported by The Register today, is detected by Sophos as Troj/Jifake-A.
Remember to take care over any applications you install on your computing devices – whether it be a desktop PC, laptop or mobile phone. Just because it's Valentine's Day doesn't mean that there's any excuse to throw all common sense out of the window.
In summary – don't let romance cloud your judgement, and keep a close eye on the (Russian) small print!