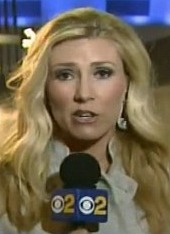 Serene Branson, a CBS Los Angeles newsreader, became an unwilling YouTube star overnight after speculation spread that she had suffered a stroke while presenting from the Grammy Awards.
The footage of Serene Branson stumbling over her words quickly became viral, as users on Facebook and Twitter passed the link on to each other.
Although reports indicate that Miss Branson was not hospitalised and is "feeling fine", interest in the video snippet continues to bubble away – and now scammers are exploiting the news story.
If you see a message like the following posted from one of your Facebook friend's accounts don't click on the link.

Omg this reporter had a stroke on live tv check it out [LINK]
If you do make the mistake of clicking on the link – perhaps out of morbid curiousity to watch Serene Brandon struggling in her piece to camera – you will be presented with a screen like the following claiming that what you are about to do is use a "verified app".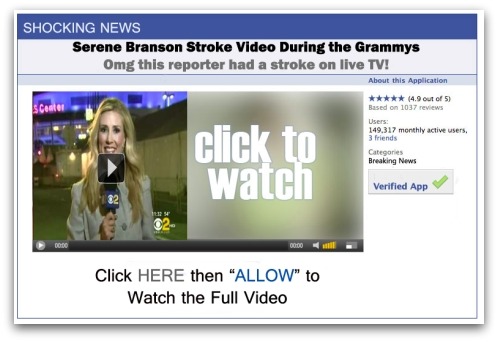 Of course, the Facebook app is in reality a third-party rogue application, designed to make money for the scammers who instigated the scheme.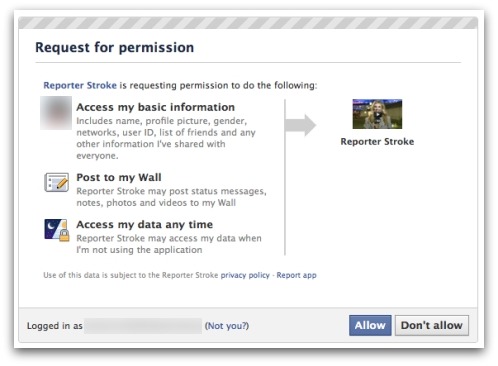 The scammers' plan is to exploit interest in the Serene Brandon video, by tricking users into approving an application that will be able to access profiles and post messages onto the walls of Facebook accounts.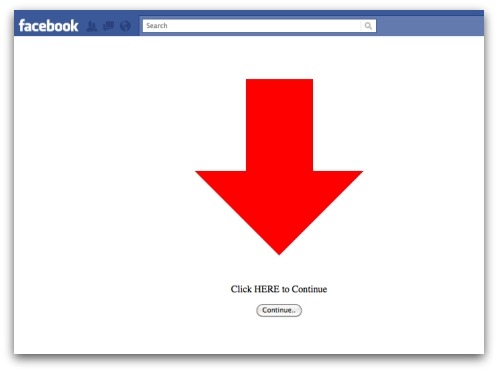 Clicking "Approve" is a bad idea, but many people fall for social engineering tricks like this all too easily.

What you probably don't realise is that behind-the-scenes your own Facebook page has published the link to your online friends and family, encouraging them to also click on the link.
In this way the link spreads virally, increasing the opportunities for the scammers to make money.
And how do they make money? By presenting you with the all-too-familiar survey scam before you can watch the video footage. If you complete the survey, the scammers earn a small amount of commission – and you've helped them generate even more by sharing the link virally via your Facebook page.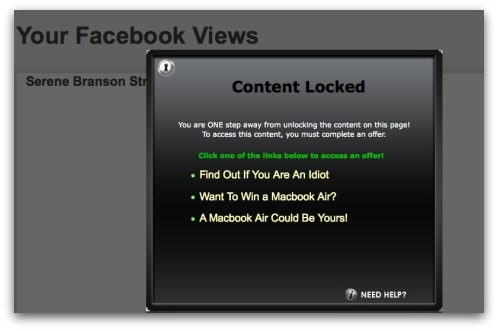 If you made the mistake of approving the rogue application you should remove it immediately, and remove the offending messages from your Facebook profile before your friends are also roped into the scam.
If you have been hit by scams like this on Facebook, and are struggling to clean-up your profile, here's a YouTube video I made which describes what steps you need to take:
(Enjoy this video? You can check out more on the SophosLabs YouTube channel and subscribe if you like)
Make sure that you keep informed about the latest scams spreading fast across Facebook and other internet attacks. Join the Sophos page on Facebook, where over 60,000 people regularly share information on threats and discuss the latest security news.
You could also do a lot worse than check out our best practices for better privacy and security on Facebook guide.