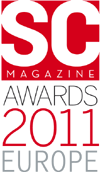 Well well well – isn't this exciting! Sophos has been shortlisted for two awards by SC magazine.
Sophos Anti-Virus for Mac Home Edition is up for Best Anti-Malware Solution, and Sophos is a contender for Information Security Vendor of the Year.
This follows our wins last week at the US SC Magazine awards: Sophos Email Security and Data Protection was named the winner of SC Magazine's 2011 Readers Trust Award for the Best Email Security category, and Naked Security's power author Graham Cluley was credited with Best Security Blogger for his work on this kick-butt security news site.
This is the third award recognising Naked Security and its team since its launch in November 2010. Would be it big-headed to create a virtual trophy cupboard for all these wonderful wins? Sigh….probably. But holy bananas I am feeling proud.

If you have a Mac at home, and want to ensure stays free of viruses, you should consider downloading this product. It promises to offer free enterprise level Mac AV software for home users. As Apple's market share continues to grow, the OS becomes more attractive to hackers and malware authors. Plus you don't have to fill in any forms!
Can I ask that you keep your fingers crossed for us at this upcoming SC awards? The award ceremony will be in London during the InfoSecurity Europe show . If you are planning to go it, why not stop by the Sophos booth and say hi?