The rumors have been circulating for months, but it appears that service pack 1 is now available for Windows 7 and Windows 2008 R2.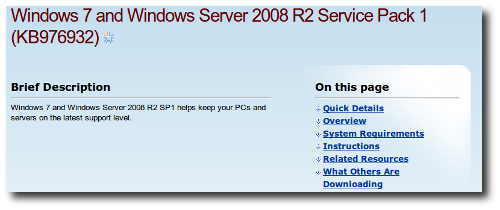 Microsoft has been working on this landmark update to Windows 7 for more than a year and the official launch date has been established as February 22nd, 2011. While few enhancements have been made to Microsoft's flagship product, stability and performance improvements abound.
Microsoft has shipped 796 bug fixes and security improvements to Windows 7 and Windows 2008 R2. This is a huge improvement and simplifies the distribution of these platforms for organizations looking to streamline their upgrades. Many of these fixes have been available via Windows Update.
Microsoft introduced two new functions in this update. They now support a feature called Dynamic Memory for Hyper-V users. This feature allows dynamic allocation of memory to virtual guests based upon their needs at any given time. Windows 2008 R2 hosts can benefit from increased efficiency for heavily loaded systems with this feature.
The second add-on is called RemoteFX. This addition allows a "richer media experience" for virtualized desktops according to Microsoft. The idea is to streamline video playback and 3D capabilities using Microsoft's remote desktop functionality.
The download of SP1 varies between 44MB and 1G depending upon the installation method you choose. See the chart below for the details.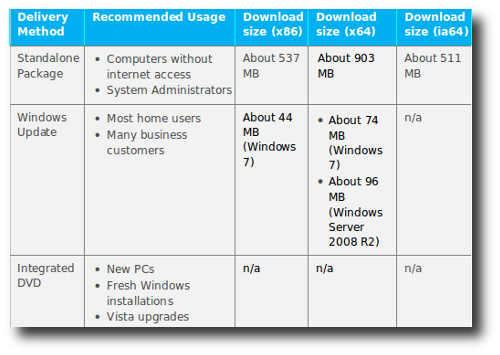 Hopefully this will accelerate the adoption of Windows 7. For the our recommendations on Windows 7 deployments check out our paper.
For information on which Sophos products support the newly released Service Pack 1 please read knowledge base article 113044.