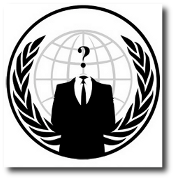 Apparently all the press attention Anonymous has been receiving since the WikiLeaks story broke last December is producing enough lulz to keep them hacking away. At least five websites belonging to Westboro Baptist Church are currently offline after they were defaced earlier today.
The ongoing dispute between the controversial church and Anonymous began with a letter allegedly posted by Anonymous last week. Today, during a live radio interview (interview contains adult language) Anonymous hacked into the church's websites and left a message for anyone who later visited.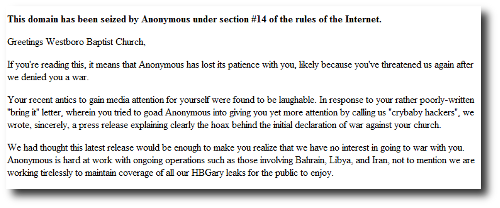 The message reads in part:
"This domain has been seized by Anonymous under section #14 of the rules of the Internet...
...For this unremitting display of overzealousness, we award you no points. Take this defacement as a simple warning: go away. The world (including Anonymous) disagrees with your hateful messages, but you have the right to voice them. This does not mean you can jump onto Anonymous for attention...."
Additionally they posted internal network details and a proxy to gain access to WBC's internal servers. Similar to past attacks, hacking into servers is a crime in most countries.
Clearly, being internet vigilantes is paying off with lots of press and attention for their causes. So far the list of victims includes Mastercard, Visa, Paypal, Amazon, HBGary, several governments and now the Westboro Baptist Church.
As the list of enemies and governments seeking the arrest of Anonymous lengthens, they should cherish their freedom. As we saw with the leaked data from HBGary, the US government is not taking this lightly and some have already been arrested.
To many who disagree with the hate speech being promoted by the Westboro Baptist Church this might seem amusing. Unfortunately, having a lawless band of vigilantes deciding who is allowed to use the internet and who isn't provides excuses to governments who would like more control of the internet.