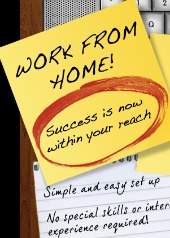 In the last few days we've seen a rise in the number of people contacting us in relation to "work from home" scams, and were curious as to whether – as we've seen before on Twitter – dubious job opportunities were being promoted via social networking sites.
We certainly found a sizable number of Facebook pages, which appeared to have been created specifically to target mothers of young children, who might want to earn some extra dollars without having to leave their homes. In some cases, the pages include videos of "success stories", giving case studies of how much money has been made by taking part in the schemes.
Of course, things are rarely that straightforward.
Here's an exchange on Facebook between a couple of users, one of whom has signed up for a "work at home mom" scheme, and another who is somewhat more wary.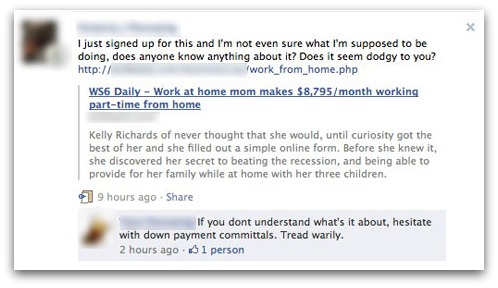 The site in question – called WS6Daily – looks like a genuine news website, but it's far from it.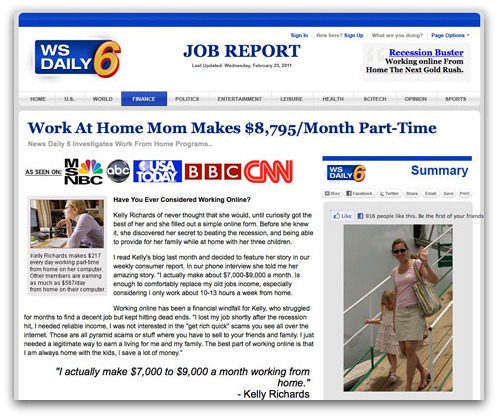 Because if you scroll down the page, you'll find the small print:
It is important to note that this site and the stories depicted above is to be used as an illustrative example of what some individuals have achieved with this/these products. This website, and any page on the website, is based loosely off a true story, but has been modified in multiple ways including, but not limited to: the story, the photos, and the comments. Thus, this blog, and any page on this website, are not to be taken literally or as a non-fiction story. This blog, and the results mentioned on this blog, although achievable for some, are not to be construed as the results that you may achieve on the same routine. I UNDERSTAND THIS WEBSITE IS ONLY ILLUSTRATIVE OF WHAT MIGHT BE ACHIEVABLE FROM USING THIS/THESE PRODUCTS, AND THAT THE STORY DEPICTED ABOVE IS NOT TO BE TAKEN LITERALLY. This page receives compensation for clicks on or purchase of products featured on this site.
In other words, the story of how Kelly Richards made a pile of money is fiction. I guess it's nice of them to explain that the story has been "modified" as are the photos and the comments that appear to have been left by other customers. It's good that they say that "the story depicted.. is not to be taken literally". And very honest of them to admit that they make money by getting people to click on the page and from purchasing their products.
But wouldn't it have been better if they hadn't hidden this – rather important detail – at the bottom of the page in a tiny font?
If you're nervous and try to move away from the bogus news site, you're given the hard sell again – and urged to take up your amazing opportunity.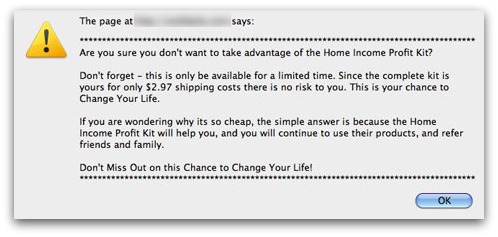 And why is it if you click on any of the navigation tabs (to subjects like "SciTech", "Entertainment" and "Politics) you don't see any news content but are instead taken to an affiliate page encouraging you to sign up for the last few spaces on the 'get-rich-quick by working from home' scheme?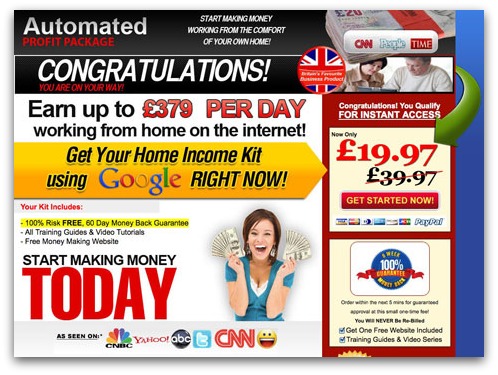 Amusingly, as soon as I tried to quit that page it told me that I was qualified for a further £10 reduction, and offered the work from home scheme to me for just £9.97. They're certainly desperate for people to sign up at any cost.
You have to wonder, has this organisation really been featured on MSNBC, ABC, USA Today, CNN and the BBC? And if they were, can we be sure it was in a positive way?
As an aside, in late 2009 we reported on how Google was suing companies who produced very similar-looking websites to WS6Daily, after work-at-home sites presented their "news" as though it was the search engine giant that was doing the hiring.
There are plenty of people who are looking after young children who would probably love to spend a couple of hours each day, working from home, to earn a crust. But be careful who you choose – some of the online schemes are undoubtedly scams – either just running off with your sign-up money or giving you no real prospect of ever generating a decent return for your time and hard work.
Check out this good FAQ on Work at Home scams if you want to learn more about the topic, and stay secure.