Have you found updates on your Facebook page, saying that you like videos on sites like FouTube, FbVideo and YoTube, and wondered what it's all about?
If so, you've fallen for a clickjacking scam – and you could be helping put more money into the pockets of the very people who tricked you into falling for their confidence trick.
Viral scams are spreading rapidly across Facebook, tricking unsuspecting users into saying they "Like" a page, which helps the links spread far and wide.
The scams use a technique called clickjacking, often called "Likejacking" when it happens on Facebook. Typically you are presented with a realistic-looking video player, but clicking anywhere on the screen with your mouse actually triggers an invisible Facebook Like of the content.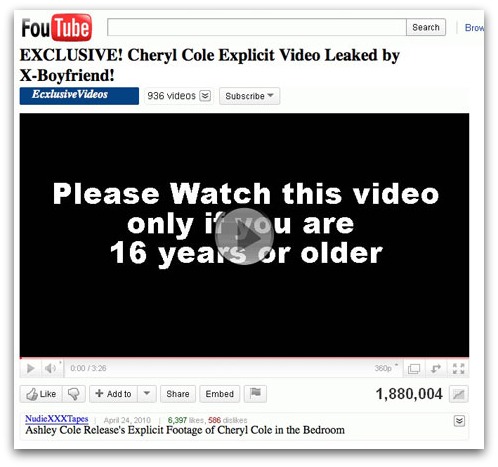 We're continuing to see dozens of scams spreading virally across Facebook, tricking users into visiting fake video websites with names such as FouTube, FbVideo and YoTube on the pretext of seeing a sensational video.
You can protect yourself from clickjacking threats like this by using free browser plugins such as NoScript for Firefox.
Examples of the scam video names being used in the last 24 hours include:
From couple to Family in 39 Months
PHOTO! Girl accidentally sends dad SMS about her FIRST TIME
Exclusive Video: Charlie Sheen found Dead at his House!
EXCLUSIVE! Cheryl Cole Explicit Video Leaked by X-Boyfriend
Look What Happens When FATHER Catches DAUGHTER Making Sexy Webcam Video
This Girl Killed Herself Because Her Dad Posted This Video On Her Wall
Japanese Tsunami Launches Whale Into Building
But the scams actually trick you into taking an online survey – on the pretext of verifying that you are old enough to watch the video – which earns the scammers commission. In some cases they will also ask you for personal information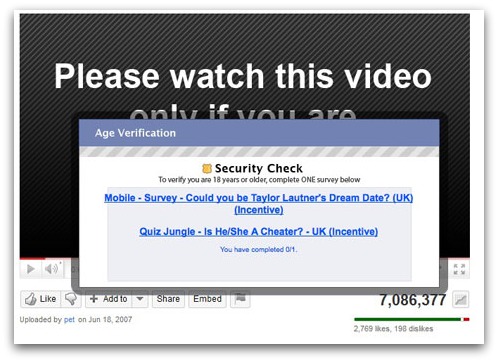 Interestingly, some of the scammers are getting sloppy (or simply feeling bold) and are making little effort to hide the fact that they are creating dozens of different sites to try to entrap unsuspecting Facebook users, as you can see by the directory I was able to find online: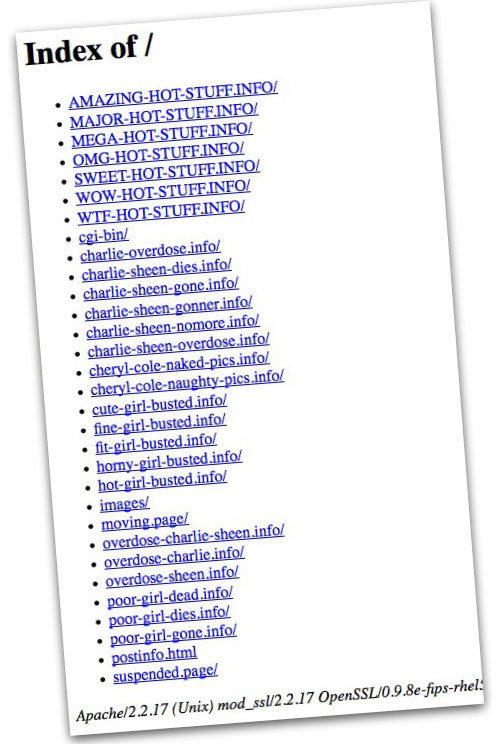 I wouldn't recommend visiting any of these sites, by the way.
As you can see, the subject matter of most of these videos is pretty sensational. In the past, many of the attacks have used the names of celebrities like Emma Watson, Miley Cyrus and Justin Bieber – clearly realising that many young people are on Facebook and may be frothing at the very thought of seeing their idols in compromising positions.
But it's not just teen crushes that are the focus of the clickjacking scams. For instance, we have seen video footage of the Japanese tsunami used as a lure for those who want to follow the terrible news coming from the country right now.
How to clean-up after a likejacking attack
If you made the mistake of clicking on a link spread via a scam message like the ones listed above, you should check your Facebook news feed and remove any offending links that you might have spammed out to your friends. Hover your mouse over the top right hand corner of the post and you should see a small "x" which will allow you to remove it.
And if you entered your mobile phone number, you should keep a close eye on your cellphone bill and notify your carrier to prevent bogus charges from stinging you in the wallet.
Remember to be wary of any links that look like this. If you really want to watch a video chances are that it's available for free – without you having to complete any surveys – on legitimate video sites like YouTube.
Going forward, it's essential that you stay informed about the latest scams spreading fast across Facebook and other internet attacks. Join the Sophos Facebook page, where more than 60,000 people regularly share information on threats and discuss the latest security news.
We've also published some good best practices for better privacy and security on Facebook. Take care!
Hat-tip: Thanks to the many Naked Security readers who contacted us about these scams.