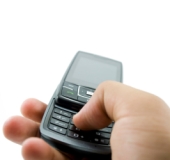 A hoax SMS text message claiming that radiation may hit the Philippines, following explosions that have rocked Japan's Fukushima nuclear power plant, have caused such a problem that authorities in Manila have issued an official denial.
The text of one of the hoaxes that is being spread via SMS messages reads as follows:
"BBC Flashnews: Japan gov't confirms radiation leak at Fukushima nuclear plants. Asian countries should take necessary precautions. Remain indoors first 24hours. Close doors and windows. Swab neck skin with betadine where thyroid area is, radiation hits thyroid first. Take extra precaution, radiation may hit Philippines."
However, the BBC has issued no such news flash, and the Philippines' Department of Science and Technology has published a statement asking people not to believe the hoax:
"The advice circulating that people should stay indoors and to wear raincoats if they go outdoors has no basis and did not come from DOST or the National Disaster Risk Reduction Management Center."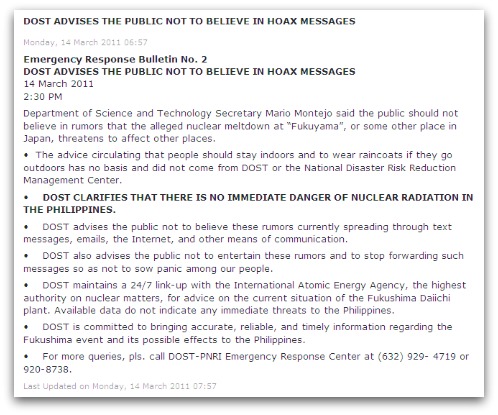 According to some media reports, workers at some companies and school children were sent home after the rumours began to spread.
Readers of the Naked Security site will be all too aware of the nuisance that can be caused by passing on hoax warnings about virus threats, and how technology has made it all too easy to pass on scares without checking facts.
It seems the problem is even more severe when the scare is not about a malware attack, but about a radiation health scare instead.