First there was a warning that there were zombies on the road ahead, then there were signals that the British were invading America, now another hacked road sign has chosen to display some rather less serious messages.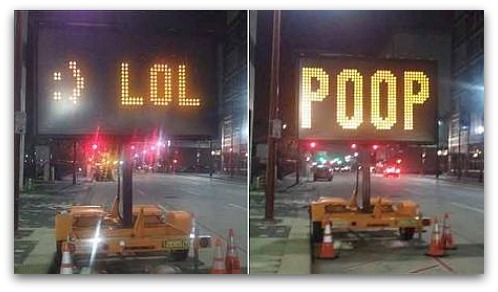 According to media reports, drivers in downtown Houston found that road signs that should have been telling them there was a detour were diverting for a whole different reason.
The construction signs on Louisiana and Prairie had been changed from saying "Detour" to "POOP" and then ":) LOL".
I don't want to sound like too much of a curmudgeon, but it shouldn't be forgotten that hacks like this are actually illegal. And although presumably done with prankish intentions, messing around with roadsigns could have serious consequences.
That's a good reason why the control systems used to control electronic road signs should be kept under proper lock-and-key.
Furthermore, although the messages displayed on roadside signs are supposed to be properly secured with a password, there has been speculation in the past that many construction workers may leave them with their default settings.
As many of us in the computer security world know, sticking with a default password is never ever a good idea.