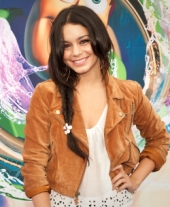 Nude photos and videos of Vanessa Hudgens, the star of "High School Musical", have surfaced on the net, with speculation rife that they have been released by a hacker who broke into the 22-year-old's Gmail account.
So far, so normal for saucy celebrity news.
But what's different on this occasion is that not only has Vanessa Hudgens reported to have met law enforcement officers to discuss the crime, but as many as 50 other celebrities are said to have been targeted by a hacking gang dead set on stealing compromising snaps and information.
Other stars said to have been in the hackers' firing line include actress Scarlett Johansson, who is alleged to have had a nude picture stolen from her iPhone.
Rumours abound that the hacking gang have been touting the risque photos and videos to websites, but might bragging about their online exploits have been their undoing?
It seems too much of a coincidence to me to believe that these latest reports are not connected in some way to the German investigation that we wrote about late last year, where two hackers were accused of breaking into the accounts of over 50 pop stars, including Lady Gaga, Kelly Clarkson, and Justin Timberlake.
In that instance, prosecutors claim that the hackers infected computers with malware in order to steal celebrities' credit cards details, private pictures, emails and unreleased songs.
Celebrities are only human (well, some of them.. probably not Lady Gaga) and are just as capable of lousy computer security as the rest of us. Just because they are in the public eye, however, does not give anybody the right to rummage through their private communications, steal foolishly stored naked pictures from their phones, or break into their computers.
So, here's what you should do (aside from the usual advice of running up-to-date anti-virus software, installing security patches and taking care about what programs you run on your computer):
1. Make sure that you are using a hard-to-crack, non-dictionary word for your password and never use the same password for multiple accounts. If you haven't already done so – make sure you read about the top 50 passwords you should never use.
2. Take care about the "secret questions" that some websites ask you to answer in case you ever forget your password. That's how people like Sarah Palin were caught out – as it was simple for hackers to guess her answers.
3. Make sure that you have changed the PIN code on your phone's voicemail. Too many people leave that as the default, opening up opportunities for strangers to listen to what should be private messages.
Image credit: hyku's Flickr photostream (Creative Commons).