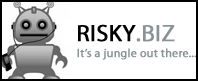 Fellow Naked Security writer Paul Ducklin appeared on this week's Risky Business podcast to discuss the recent breach at RSA Security as well as Privacy International's (PI) recent report on Skype security.
Patrick Gray, the host of Risky Business, couldn't help but ask Paul his opinions on the RSA disclosure, but the focus of the interview was the demand for changes in Skype made by Privacy International.

Paul took on the three primary issues addressed in PI's letter.
PI took issue with the fact that accounts are displayed with any name a user wishes to use, the lack of an HTTPS download option for the client and Skype's use of a variable bit-rate codec that could enable a snooper to determine key words and phrases being spoken even though the content is encrypted.
Paul called this out as a desperate attempt on PI's part to get press and was a voice of reason about the real risks to activists and dissidents that might be present when using Skype. As usual, Patrick asked Paul all the right questions to tease out the details that are actually important.
Listen to Risky Business episode 187, and if you are short on time you can catch Paul's segment at around 19m 30s into the podcast.
(18 March 2011, duration 54:06 minutes, size 29.9MBytes)