Proving that no website is ever truly secure, it is being reported that MySQL.com has succumbed to a SQL injection attack. It was first disclosed to the Full Disclosure mailing list early this morning. Hackers have now posted a dump of usernames and password hashes to pastebin.com.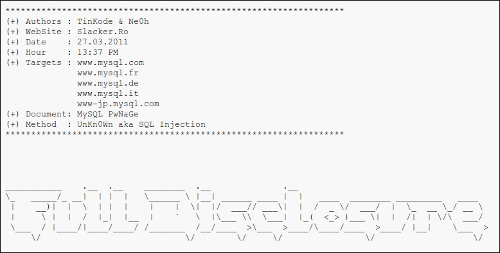 Most embarrassingly, the Director of Product Management's WordPress password was set to a four digit number… his ATM PIN perhaps? Several accounts had passwords like "qa". The irony is that they weren't compromised by means of their ridiculously simple passwords, but rather flaws in the implementation of their site.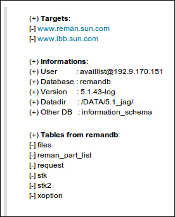 MySQL's parent company Sun/Oracle has also been attacked. Both tables and emails were dumped from their databases, but no passwords.
It does not appear to be a vulnerability in the MySQL software, but rather flaws in the implementation of their websites.
Auditing your websites for SQL injection is an essential practice, as well as using secure passwords.
Either can lead you down a road that ends in tears. If you haven't reviewed your web coding practices, this might be a good time to perform an audit of your public-facing assets to be sure your organization won't become the next headline.
It was noted on Twitter that mysql.com is also subject to an XSS (cross-site scripting) vulnerability that was reported in January 2011 and has not been remedied.