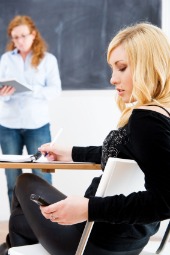 The UK teachers' union, NASUWT, calls government plans to allow teachers to search and even delete content on student mobile phones "reckless", according to the BBC.
The education bill introduces the following measures in order to help combat cyber-bullying:
(6E) The person [eg, a teacher] who seized the item [eg, 'an electronic device' belonging to a pupil] may examine any data or files on the device, if the person thinks there is a good reason to do so.

(6F) Following an examination under subsection (6E), if the person has decided to return the item to its owner, retain it or dispose of it, the person may erase any data or files from the device if the person thinks there is a good reason to do so.
Teachers claim that putting these measures into action will cause friction between teachers, pupils and parents.
Fellow security blogger Kevin Townsend takes exception to these measures in this post, "…it is a long time since I heard such a ridiculous, authoritarian, draconian, illiberal, high-handed and utterly absurd suggestion."
Cyber-bullying is however a very real threat, and the government and teachers need to find a better way to combat it. Research published earlier this month by BullyingUK said that 43.5% of respondents aged 11-16 had been bullied via social networks such as Facebook, Bebo, Myspace, Twitter.
Incidents include happy slapping, where someone is physically hit across the head and the incident is recorded on mobile phones and shared between friends and via social networks. Last August, two teens received stiff sentences for killing a 67-year-old man during a "happy slap" incident.
Another form of cyberbullying is known as Facebook raping, or "fraping". This is where a person's Facebook account is accessed by an unauthorised third party and set to 'Like' unsavory items or display hurtful or embarrassing posts on the victim's Facebook wall.
Finding the right balance between protecting innocent students, identifying and disarming school bullies, all while maintaining strong and open relationships with students and their parents is no easy feat.
I, like the NASUWT, would want to shy away from this proposed approach. It ignores the students' rights to privacy.
If a student was indeed bullying another pupil, and this was reported to the school authorities, perhaps they should have the right to review a device's content, but only if it pertains to the specific allegation.
I wonder if this controversial issue could be addressed by simply tightening up the vague and open-ended wording ("if the person thinks there is a good reason to do so") in the educational bill's clauses.
This would allow the students to have a clearer idea of what they are allowed and not allowed to do. This approach might also be more acceptable to teachers, who might feel they are on more solid ground when they ask for a device to be handed over.