After a Federal Trade Commission (FTC) review into whether Google snafued its launch of Buzz, a Gmail social media tool, the internet search giant apologized to its users and settled with the FTC yesterday.
Google plunged into the social network waters in February last year with Buzz, which was designed to stream external feeds like Twitter and Google Reader. It also allowed users to create public or private posts that the Buzz network could comment upon.
Gmail users were led to believe that they could choose whether to participate in Buzz, but soon discovered they were unable to opt out. Users also lodged thousands of complaints regarding the difficulty in controlling what information was shared on Buzz.
Not only did these settings breach Google's own privacy assurances to its users, the FTC say it violates its Act.
Google responded by tightening its settings, making the contacts private by default, but it was too late.
The FTC reported in their press release:
Google Inc. has agreed to settle Federal Trade Commission charges that it used deceptive tactics and violated its own privacy promises to consumers when it launched its social network, Google Buzz, in 2010. The agency alleges the practices violate the FTC Act.
As a results of this review, Google have agreed to implement a comprehensive privacy program that includes privacy and data protection audits by an independent third party every two years for the next 20 years. This is the first company to be asked to implement such a program by the FTC.
Google published this apology on its blog yesterday: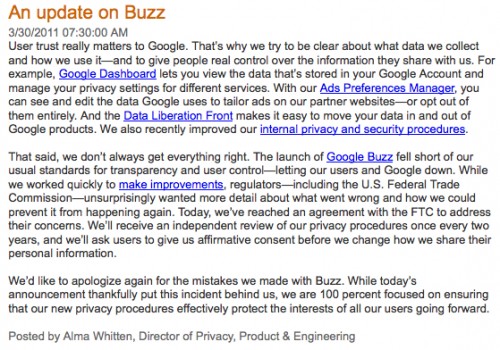 Now, I rather like this statement from Google. It apologises for its actions. Many companies pass the buck or don't own up when they screw up. Good for them.
But this isn't the first time Google have been embroiled in a privacy debate around Buzz. In November last year, the internet kings faced an
£8.5 million lawsuit.