They may have the best of intentions, but Facebook users who are spreading a warning about a supposed virus across the social network are actually not helping anyone at all.
Messages being shared across Facebook warn users not to add as a Facebook friend people called "Linda Smith" or "Jason Lee".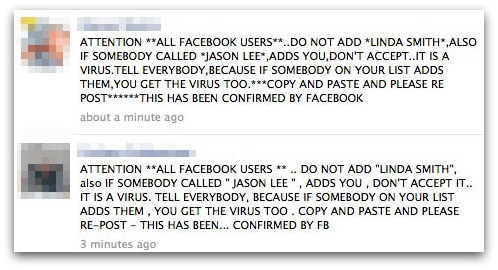 ATTENTION **ALL FACEBOOK USERS**..DO NOT ADD *LINDA SMITH*,ALSO IF SOMEBODY CALLED *JASON LEE*,ADDS YOU,DON'T ACCEPT..IT IS A VIRUS.TELL EVERYBODY,BECAUSE IF SOMEBODY ON YOUR LIST ADDS THEM,YOU GET THE VIRUS TOO.***COPY AND PASTE AND PLEASE RE POST******THIS HAS BEEN CONFIRMED BY FACEBOOK
The truth is that this is a hoax, spread by well-intentioned individuals who think they're doing others a favour by posting or forwarding the warning so other users can read it. It's just the latest example of the many hoaxes we have seen spreading over the internet for some years.
I mean, just think about it – is a warning to not add someone called "Linda Smith" or "Jason Lee" really that helpful anyway? Just imagine how many people have names like that!
And the warning claims that Facebook themselves have confirmed the threat. If that's the case, where has Facebook confirmed it? Why is there no link in the warning where people can discover more about the threat?
Remember to always get your computer security advice from a computer security company. Friends may be well-intentioned in passing on warnings, but it's always good to check your facts before forwarding them any further.
If you want to learn about the real threats on Facebook you should join the Sophos Facebook page, where we'll keep you up-to-date on the latest rogue applications, scams and malware attacks threatening social network users.
Thanks to Naked Security reader Thelma who first brought this chainletter to our attention.