A new viral scam is being spread across Facebook by a rogue application, tricking users into believing that Facebook is closing all accounts today.
Many Facebook users have found that their profiles have been updated with a message which reads:

Facebook is closing all accounts today. They can't handle so many accounts. Most of the old accounts are not active, so they are deleting everything. If you want your account alive please confirm your activity. This is the final notice! [LINK]
They may also see a message reading:
Final Notice - Confirm your activity today!
In order to keep your account alive you must verify your activity!
Your account will be permanently disabled if you don't take this step.
The sad thing is that there are many Facebook users who can be fooled by a cunning piece of social engineering like this, as their addiction to the world's most popular social network outweighs their skepticism about Facebook killing off accounts.
If you do make the mistake of clicking on the link you are taken to a rogue application, which attempts to present itself as an official application developed by Facebook itself, but is written by a third-party. Their intention is to gain access to your Facebook profile so they can post the same message from your Facebook page, spreading the message virally to all of your friends.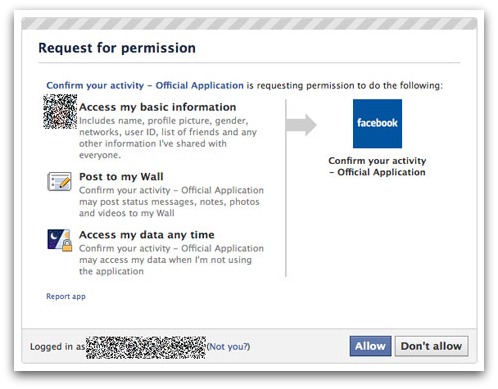 So don't grant the application permission!
If the fear of losing your Facebook account drove you to make a bad decision and you did grant the application the right to post to your wall, it will take advantage immediately and take your browser to an online survey that earns the scammers commission.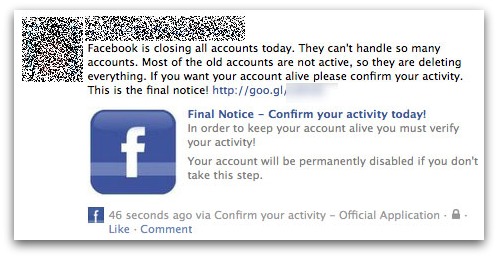 If you've been affected by this scam, you should clean up your account before any further damage is done.
I've made a YouTube video where I show you how to clean-up your Facebook account if you were hit by this, or similar scams on Facebook:
(Enjoy this video? You can check out more on the SophosLabs YouTube channel and subscribe if you like)
Make sure that you stay informed about the latest scams spreading fast across Facebook and other internet attacks. Join the Sophos Facebook page, where more than 90,000 people regularly share information on threats and discuss the latest security news.
You could also do a lot worse than check out our best practices for better privacy and security on Facebook guide.