iPhone Download Blog wrote a story yesterday pointing out keylogging software that is now available for iPhone/iPad/iPod Touch devices.
The software is called iKeyGuard and is being sold for $9.99. It is pitched as a tool for keeping an eye on your employees and as an "archival" tool. Unless you have a habit of drunk texting and then deleting all your own SMSs, I can't think of a legitimate, legal use case for this. Can you?
It's strange to think these apps are often offered as legitimate tools that would never be used for anything untoward. Yet the website for the app gleefully points out:
Hidden but Working
You won't notice it while working with your device, it won't even show in the list of running apps.
But will work and send you logs via E-Mail in prefered intervals.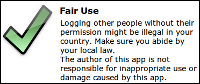 The author doesn't ignore the fact that logging people's keystrokes without their permission "might be illegal in your country."
This app clearly wasn't approved by Apple's App Store and does require you to jailbreak your phone, which is another reason you might not expect this to be popular for corporate use.
The author of the software seems to be a programmer for a company that does produce applications for the real App Store. While it is not technically malware, without a doubt this type of program falls into the category of "potentially unwanted."
While it may be tempting to spy on your spouse, child, or even employees it is in fact a criminal act in most jurisdictions.
This example goes to show there is some value in playing in Apple's "walled garden," knowing you are safe from having someone spying on your every action.
To stay up to date on all the latest Apple, Mac and iOS security news you can follow our Apple category here on Naked Security, or visit our Mac Security Hub on Sophos.com.