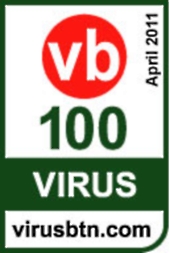 The latest edition of Virus Bulletin magazine includes a comparative test of an eye-watering 69 different anti-virus products, exploring their ability to reliably detect malware on the Windows XP SP3 platform.
Just as with the tests that Virus Bulletin conducts on other operating system platforms, the VB100 title is only awarded if a product is capable of detecting all in-the-wild viruses in both on-demand and on-access modes without suffering from any false positives.
Sophos performed well in the tests, outperforming some of the products from competing firms, and was awarded the VB100 title by detecting 100% of the viruses in Virus Bulletin's "in-the-wild" collection and not having any false alarms.
Virus Bulletin praised Sophos's low resource consumption, speed of scanning and solid detection rates, and commented on our history of doing well in such tests:
"The core certification tests proved no problem, and Sophos comfortably earns another VB100 award. The company's recent records show only a single fail and 11 passes in the last two years, with all of the last six tests passed with flying colours."
More information about the latest test can be found in the April 2011 edition of Virus Bulletin magazine, that has just been published.
Don't forget that you can read more about Sophos's long track record in independent comparative tests on our reviews page.