Kian Egan, a singer with the Irish boyband Westlife, has been forced to deny that he is leaving the chart-topping pop group after statements were posted on his Twitter account.
Egan had over 60,000 followers on Twitter, and the news would surely have plucked the heartstrings of his many young female fans: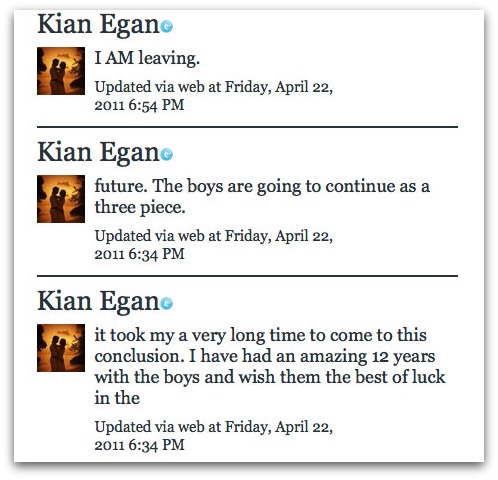 it took my a very long time to come to this conclusion. I have had an amazing 12 years with the boys and wish them the best of luck in the future. The boys are going to continue as a three piece.
Egan claims, however, that the tweets were posted by a hacker who compromised his @KianEganWL account, which has subsequently been suspended.
He took to the Twitter account of his singer/actress wife Jodi Albert to blame a hacker for the posts announcing his retirement from Westlife.
http://twitter.com/#!/JodiWonderland/status/61496601046302720
Famous figures who have fallen victim to a Twitter hack in the past include Ashton Kutcher, Lil Wayne, Axl Rose, Britney Spears and plummy-voiced British TV property crumpet Kirsty Allsopp.
Even publications like the New York Times and humourous phenomenon ShitMyDadSays have fallen foul of hackers on Twitter.
It's worth bearing in mind, however, that sometimes celebrities might have claimed to have been hacked on Twitter when in fact it's quite possibly not true.
But if we take Kian Egan at his word, and believe that he was indeed hacked on Twitter, then he would be wise to take steps now to prevent it from happening again.
Remember, you should always choose a non-dictionary word that's hard to guess as your Twitter password, and never use the same password on multiple websites.
Here's a video where I describe how to choose a stronger password. Unfortunately it's not like a Westlife video, as I don't step up from my stool and make a dramatic key change towards the end..
(Enjoy this video? You can check out more on the SophosLabs YouTube channel and subscribe if you like)
Also, be on your guard against phishing sites and ensure that your computer is running up-to-date anti-virus software to protect against keylogging spyware which may attempt to steal your information.
Finally, consider carefully which third-party applications and websites you allow to connect with your Twitter account.