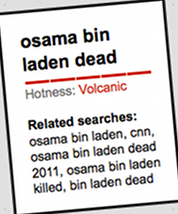 Google's top-trending Anglophone search term right now is, understandably, "osama bin laden dead".
Google officially describes its hotness (you couldn't make this stuff up) as volcanic.
The short version, according to the LA Times, is that bin Laden was tracked to a "comfortable mansion surrounded by a high wall in a small town near Islamabad, Pakistan's capital."
For bin Laden, it seems, the comfort is no more. "On Sunday, a 'small team' of Americans raided the compound. After a firefight, [President Obama said], they killed Bin Laden." Apparently, DNA tests have confirmed Bin Laden's identity.
And there you have it.
Now you know the basics – but watch out for the links you're likely to come across in email or on social networking sites offering you additional coverage of this newsworthy event.
Many of the links you see will be perfectly legitimate links. But at least some are almost certain to be dodgy links, deliberately distributed to trick you into hostile internet territory.
If in doubt, leave it out!
Sometimes, poisoned content is rather obvious. The links in this spam captured by SophosLabs, for example, give the impression of going to a news site:

The links don't go anywhere of the sort, of course. Wherever you click, you end up finding out how to replace your tired old windows:

But even well-meant searches using your favourite search engine might end in tears.
What's commonly called "Black-Hat Search Engine Optimisation" (BH-SEO) means that cybercrooks can often trick the secret search-ranking algorithms of popular search engines by feeding them fake pages to make their rotten content seem legitimate, and to trick you into visiting pages which have your worst interests at heart.
Well-known topics that have been widely written about for years are hard to poison via BH-SEO. The search engines have a good historical sense of which sites are likely to be genuinely relevant if your interest is searches like "Commonwealth of Australia", "Canadian Pacific Railway" or "Early history of spam".
But a search term which is incredibly popular but by its very nature brand new – "Japanese tsunami", "William and Kate engagement", "Kate Middleton wedding dress" or, of course, "Osama bin Laden dead" – doesn't give the search engines much historical evidence to go on.
The search engines want to be known for being highly responsive to new trends – that means more advertising revenue for them, after all – and that means, loosely speaking, that they have to take more of a chance on accuracy.
What can you do to keep safe?
* Don't blindly trust links you see online, whether in emails, on social networking sites, or from searches. If the URL and the subject matter don't tie up in some obvious way, give it a miss.
* Use an endpoint security product which offers some sort of web filtering so you get early warning of poisoned content. (Sophos Endpoint Security and Control and the Sophos Web Appliance are two examples.)
* If you go to a site expecting to see information on a specific topic but get redirected somewhere unexpected – to a "click here for a free security scan" page, for instance, or to a survey site, or to a "download this codec program to view the video" dialog – then get out of there at once. Don't click further. You're being scammed.