Don't be too quick to click on links claiming to "Enable Dislike Button" on Facebook, as a fast-spreading scam has caused problems for social networking users this weekend.
Messages claiming to offer the opposite to a like button have been appearing on many Facebook users' walls:

Facebook now has a dislike button! Click 'Enable Dislike Button' to turn on the new feature!
Like the "Preventing Spam / Verify my account" scam which went before it, the scammers have managed to waltz past Facebook's security to replace the standard "Share" option with a link labelled "Enable Dislike Button".
The fact that the "Enable Dislike Button" link does not appear in the main part of the message, but lower down alongside "Link" and "Comment", is likely to fool some users into believing that it is genuine.
Clicking on the link, however, will not only forward the fake message about the so-called "Fakebook Dislike button" to all of your online friends by posting it to your profile, but also run obfuscated Javascript on your computer.
The potential for malice should be obvious.
As we've explained before, there is no official dislike button provided by Facebook and there isn't ever likely to be. But it remains something that many Facebook users would like, and so scammers have often used the offer of a "Dislike button" as bait for the unwary.
Here's another example that is spreading, attempting to trick you into pasting JavaScript into your browser's address bar, before leading you to a survey scam: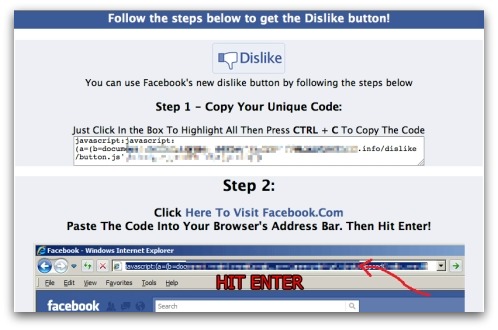 If you use Facebook and want to learn more about spam, malware, scams and other threats, you should join the Sophos Facebook page where we have a thriving community of over 180,000 people.