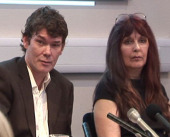 We've written on many occasions on the Naked Security site about the case of British computer hacker Gary McKinnon.
McKinnon, who suffers from Asperger's Syndrome, was arrested in 2002 after breaking into computers belonging to the US Army, US Navy, US Air Force, Department of Defense and NASA.
The 45-year-old hacker claims that he accessed the computer systems only to hunt for top secret information about anti-gravity propulsion systems and alien technology, which he believed the authorities were hiding from the public.
For their part, the US authorities claim that McKinnon caused some $800,000 worth of damage.
ITV reporter Tom Bradby quizzed Obama and Cameron about whether the leaders had found a solution to the vexing question of whether McKinnon should be extradited to the United States.
As you can see in the following video of what was said, there may be cause for some optimism amongst McKinnon's many supporters.
Obama, who visited the UK this week on a state visit, told the international media at a press conference held with the British Prime Minister, that the decision as to whether McKinnon should be extradited or not lies with the British legal system.
We have proceeded through all the processes required under our extradition agreements.. It is now in the hands of the British legal system. We have confidence in the British legal system coming to a just conclusion. And so we await resolution, and we'll be respectful of that process."
In 2009, a Sophos poll of 550 IT professionals found that 71% believed that McKinnon should not be extradited to the USA: