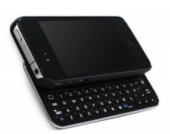 Still using a crummy old iPhone 4? Fancy an iPhone 5G instead?
You know, the one with the built-in physical keyboard that slides out and is "slimmer, faster and sleeker" than ever?
What's that? You haven't heard of the iPhone 5G? Well, that's perhaps not a surprise as it doesn't exist yet.
But maybe you think you missed the news – after all, Apple is making some product announcements later today at WWDC in 2011 and it's still possible Steve Jobs might reveal a new incarnation of the iPhone rather than the (much more likely) news around iOS 5, Mac OS X 10.7 ("Lion") and iCloud.
Nevertheless, you might have been one of the people who has received an email claiming to come from Apple with the subject line:
Finally. The amazing iPhone 5. Now available in black edition.
Part of the email, which claims to come from noreply@apple.com, reads:
Introducing the iPhone that lets you do more than ever. And do it amazingly faster.

Launch and switch between applications quickly. Bigger display, transparent mode, better cloud integration. Shoot, edit, and share video like never before. Slimmer, faster and sleeker. Discover many more features that make iPhone 5G S the best iPhone yet.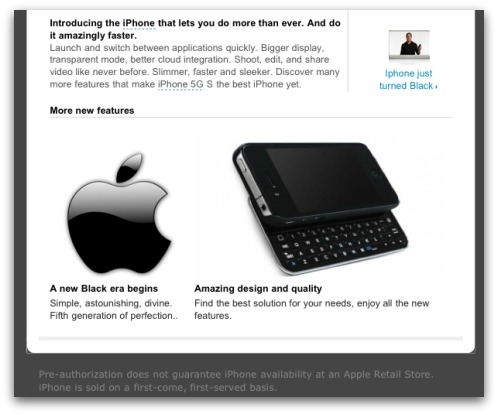 Take care not to click on links contained inside the email, however, as they're directing to a malicious executable file called iphone5.gif.exe.
Of course, the images of the iPhone 5 with a built-in hardware keyboard are just some fanboy's dream.
Sophos products intercept the emails as spam, and identifies the malware that the messages point to as the Troj/Zapchast-B Trojan horse.
Ironically, this spammed-out malware attack doesn't infect iPhone or even Apple Mac users – the Trojan only infects the Windows operating system.