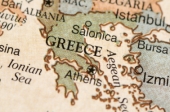 Authorities in Greece have arrested an 18-year old man today, suspected of hacking into computer systems belonging to Interpol, the Pentagon, the NSA and the FBI.
The teenager, who has not been identified, is said to live with his mother in the Athens district of Agios Dimitrios, and is alleged to have originally broken into the Interpol crime-fighting website when he was just 15 years old.
Manolis Sfakianakis, head of the Greek computer crime police, told state television that the young man used the internet name "nsplitter", and conducted his attacks against websites around the world from the comfort of his home.
"Nsplitter" is also said to have stolen credit card and banking details from victims' computers by tricking them into downloading malicious toolbars. The natural deduction would be that this information was later used fraudulently. According to reports, the alleged hacker is said to have invested in nearly fifty companies on the Athens stock exchange.
Police searched the man's home, confiscating money and computer equipment. In addition, authorities claim to have found a makeshift explosive device, flares and shotgun cartridges.
US and French authorities worked alongside Greek police on the investigation, which has been pursued since the hacks in February 2008 and February 2009.
If found guilty, the man could face up to five years in prison for the hacks.
This shouldn't need to be said, but let me say it anyway. Don't hack into computers which don't belong to you. Not for fun. Not for money. It's against the law, and if you're caught the penalties you end up paying could be very serious.