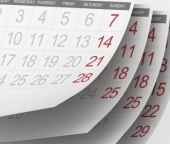 The MyDoom worm. First seen in January 2004, it spread via email, opened a backdoor for spammers to gain access to your PC, and scoured your hard drive for more email addresses to forward itself onto.
It became widespread in no time, which was particularly concerning for software firm SCO – whose website it targeted with a distributed denial-of-service attack from infected Windows computers, seemingly as part of a civil war between different factions of the Linux community.
SCO offered a bounty of $250,000 for information leading to the successful arrest and conviction of the author.
As a later variant targeted Microsoft's website, a further $250,000 was added to the kitty by the Seattle giant.
So, a notorious piece of malware – first seen and stopped by anti-virus companies over seven years ago.
Which makes it all the more depressing for us in SophosLabs to see it every day still spreading around the world as an email attachment.
And it's not just MyDoom, we see other blasts from the past like the W32/Bagle-CF worm and W32/Netsky-P malware many times a day too.
If everyone had updated their anti-virus software at least once in the.. oh, I don't know.. last five years then this malware wouldn't be able to spread.
Clearly there will always be computers out there which aren't running any anti-virus protection, or which haven't been updated since the 1990s..
Don't forget, we see approximately 100,000 new pieces of malware every single day. If you haven't updated your anti-virus since 2004 then.. well, I don't even like to think about it.
Good modern anti-virus software pretty much keeps itself constantly up-to-date, protecting against the latest threats.