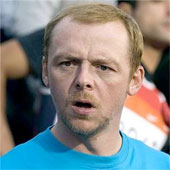 British comic actor Simon Pegg, star of movies such as "Shaun of the Dead", "Hot Fuzz", and most recently the alien comedy "Paul", has claimed that his Twitter account has been hacked in order to spread malware to his 1.2 million followers.
Simon Pegg normally tweets to his fans with TweetDeck or Twitterific, but the offending message was sent via the Twitter for BlackBerry application instead:
Download the new "Paul" Sceen Saver [LINK] after download right click and press test to install.

Fans of Simon Pegg rushed to download the screensaver, only for many of them to report that their anti-virus software had found a Trojan horse in the ScreenSaver.exe file being linked to.
Pegg posted a few messages indicating that he believed his account had been hacked, claiming that he did not post any messages about a screensaver, and warning fans of the "computer virus" threat. He doesn't mince his words about what he thinks of the hacker responsible.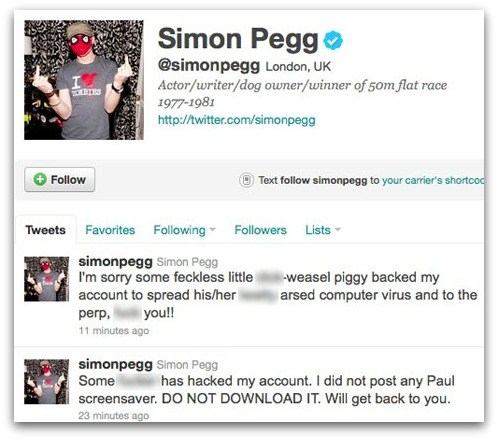 And Pegg is right – it's not a harmless file. It's a banking Trojan that Sophos detects as Troj/VBBanker-A.
Clearly, it is a timely warning to all internet users to think long and hard before running or installing any unknown content on their computers.
Although the malware in this case is Windows-specific, funnyman Pegg couldn't resist cracking a joke:
http://twitter.com/#!/simonpegg/status/85111036054732801
It's no laughing matter, of course, for Simon Pegg's Twitter followers – any of whom could have been putting their computer at risk if they downloaded and ran a malicious file.
Famous figures who have fallen victim to a Twitter hack in the past include Ashton Kutcher, Lil Wayne, Axl Rose, Britney Spears and plummy-voiced British TV property crumpet Kirsty Allsopp.
Even publications like the New York Times and humourous phenomenon ShitMyDadSays have fallen foul of hackers on Twitter.
It's worth bearing in mind, however, that sometimes celebrities might have claimed to have been hacked on Twitter when in fact it's quite possibly not true.