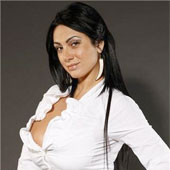 I must admit I had never heard of Marika Fruscio, when this scam spreading on Facebook was first brought to my attention.
But a quick check on Wikipedia revealed that she is a model and Italian TV hostess, whose biggest contribution to popular culture is that she had something of a wardrobe malfunction on live TV during a soccer show called "Diretta Stadio".
Clearly, the spammers behind the latest scam spreading quickly across Facebook were better acquainted with Miss Fruscio than me. I think perhaps I would like to keep it that way.
Here's the message that is appearing on many people's Facebook newsfeeds:

Yeahh!! It happens on Live Television!
[LINK]
Lol Checkout this video its very embracing moment for her
I suspect they meant "embarrassing" rather than "embracing", but spelling has rarely been scammers' strong point.
And it doesn't seem to matter if you recognise Marika Fruscio or not. I suspect she isn't known outside of her native Italy, and yet the messages are appearing on users' Facebook pages around the world, enticing their online friends to click to see more.
Anyone who regularly reads the Naked Security site will know only too well what's likely to happen if you click on the link, but for those of you who are uneducated about scams, here's what happens next.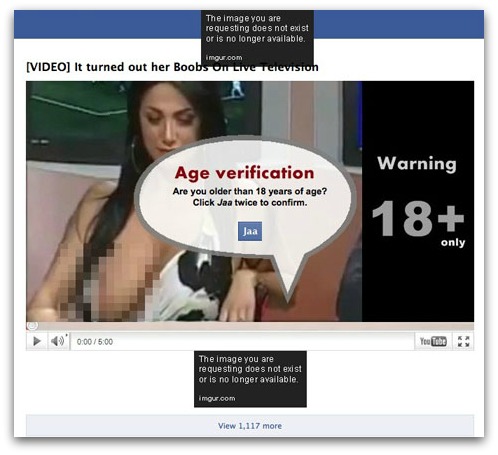 Your browser goes to a webpage which claims that it's about to show you a video of the mighty Marika Fruscio falling from grace on live television.
Interestingly, on this occasion some of the graphics are not rendering properly – perhaps the imgur website which is serving the real graphics in this instance is aware that its images are being abused and so have removed them.
The page wants you to click "Jaa", and claims that doing so will verify your age. The truth is that it will do nothing of the sort.
The scammers want you to "share" the video with your Facebook friends before they'll let you watch. The message is in Finnish and – you guessed it – "Jaa" is Finnish for "Share".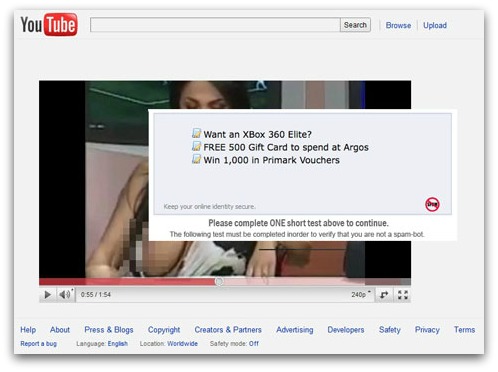 And here comes the payload. If you share the link with your friends, thus helping it spread virally across the Facebook social network, you will then be presented with an online survey. The scammers earn commission each and every time a survey is completed – now do you see why they were so keen for you to help them spread the link around?
Fortunately it's easy to remove the scam from your Facebook page.

Maybe if folks showed a little more restraint when presented with a sexy messages on their Facebook newsfeed these sorts of scams wouldn't spread so quickly.
If you use Facebook and want to get an early warning about the latest attacks, you should join the Sophos Facebook page where we have a thriving community of over 90,000 people.