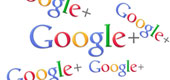 Some early adopters of Google+ have found themselves bombarded with multiple notification messages in their email, due to a bug in the social networking's code after the site – astonishingly – ran out of disk space.
Vic Gundotra, Senior Vice-President of Social for Google, posted an apology (appropriately enough) on his Google+ account to those users affected, painting the social network as having been a victim of its own success.

Please accept our apologies for the spam we caused this afternoon.

For about 80 minutes we ran out of disk space on the service that keeps track of notifications. Hence our system continued to try sending notifications. Over, and over again. Yikes.

We didn't expect to hit these high thresholds so quickly, but we should have.

Thank you for helping us during this field trial, and once again, we are very sorry for the spam.
It's pretty embarrassing for Google+ to suffer from such a bug – you can hardly imagine how the site could conceivably "run out of disk space", even if it is still technically undergoing trials.
High profile sufferers included Rory Cellan-Jones, BBC News's technology correspondent, an influential reporter who would hardly be high on your list of people you want to slate the social network.
http://twitter.com/#!/ruskin147/status/89949387295432705
Of course, accidental spam like this is better than being hit by spam containing Viagra adverts, phishing messages and malicious links – but it's still a nuisance and precisely the kind of irritating bug that is likely to upset users.
If you are on Google+, and want to keep informed about the latest security news, consider adding Naked Security to one of your circles.