It's yet another weekend of fast-spreading scams on Facebook, with this time the promise of a leaked video of Casey Anthony confessing to her lawyer.

BREAKING NEWS - Leaked Video of Casey Anthony CONFESSING to Lawyer!
[LINK]
Click To See - She can't be re-tried, double jeopordy.. OJ all over again!
Casey Anthony was found not guilty earlier this month of murdering her two year old daughter, in a case which has gripped America.
With such huge media interest in the case and its outcome, scammers have leapt upon the opportunity to take advantage for their own financial ends.
If you make the mistake of clicking on the links spreading across Facebook, you will be taken to an all-too-familiar sight:
"Jaa", as regular readers of Naked Security know, is Finnish for "Share". The scammers want you to help them spread the link far and wide by getting you to Share it with your Facebook friends and family.
Remember – you're being asked to do this before you see any video. If one of your Facebook friends see that you have shared the link via your newsfeed, they might believe that you are endorsing the claim that this is a video of Casey Anthony confessing to her lawyer – and click on it themselves.
Because you'll ultimately be taken to a page which pretends to be YouTube, but is really designed to trick you into taking a survey that earns commission for the scammers.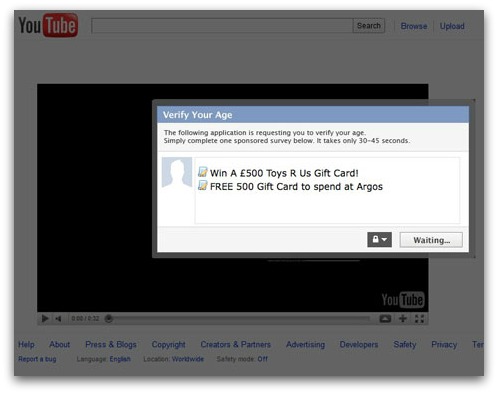 In other words, the more traffic they bring to the survey page – by tricking you into sharing it – the more money they could make.
It goes without saying, of course, that the scammers do not have a video of Casey Anthony confessing to her lawyer. Ultimately they point you to a TV news report of Casey Anthony being told she is not guilty of murder.
If you got hit by this scam, make sure you have removed the entries from your news feed (to stop them being shared amongst your friends) and check your profile does not have any unwanted "Likes" under your "Likes and interests".
If you use Facebook and want to get an early warning about the latest attacks, you should join the Sophos Facebook page where we have a thriving community of over 100,000 people.