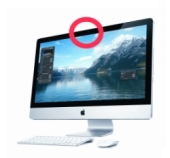 The US Secret Service has confiscated computer equipment from a Brooklyn artist who installed unauthorised software on computers at two New York Apple stores.
25-year-old Kyle McDonald installed software onto MacBooks and iMacs, that automatically took photographs every minute of Apple customers as they stared at the computers they used in the Apple stores.
These surreptitiously-taken photographs were then posted on a Tumblr blog and made into a video.
McDonald says that he asked permission from staff to take pictures inside the store, but it's unclear whether he had permission to install onto the computers what sounds suspiciously like spyware. And there are obvious privacy questions that might be raised too.
McDonald did what everyone does when the Secret Service comes knocking on your day these days. He posted a message on Twitter:
http://twitter.com/#!/kcimc/status/88956546972778496
In the raid, McDonald's two computers and flash drives were confiscated.
McDonald, who has not been arrested, says that the warrant he was served with claims that he violated 18 US Code section 1030 (which deals with unauthorised access to computers), and that he has asked the Electronic Freedom Foundation (EFF) for assistance.
Of course, there is no suggestion that the software that McDonald installed was anything like as serious as the spyware more commonly encountered on computers that logs keypresses, steals passwords and so forth.
But you can well imagine that members of the public wouldn't be too chuffed to find that they are featuring in an artwork. And if the computers in Apple's stores were able to have McDonald's software installed upon them it would surely be just as easy to install something more malicious.
Perhaps that's something to bear in mind next time you are in an Apple store and think you'll use the public computers to access your email or Facebook account.