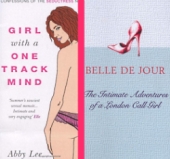 Things are hotting up in the headlines, with the ongoing story of phone hacking by the "News of the World" beginning to raise questions as to whether British newspapers might have also engaged in other kinds of underhand methods to spy on people.
Earlier today, two prominent bloggers suggested that The Sunday Times, another paper in Rupert Murdoch's News International media empire, might have attempted to hack into their computers by sending them Trojan horses via email.
Zoe Margolis was revealed as the author of the "Girl with a one track mind" blog in August 2006 by The Sunday Times.
The blog charted the pseudonymous Abby Lee's sex life as a single woman, and became an internet sensation. Inevitably this led to much speculation in the media as to who the real author could be.
In an exchange of tweets this afternoon with another sex-life blogger (Dr Brooke Magnanti, better known as "Belle de Jour") whose identity was for some years also a closely guarded secret until exposed by Fleet Street, the suggestion was made that they could have fallen victim to spyware.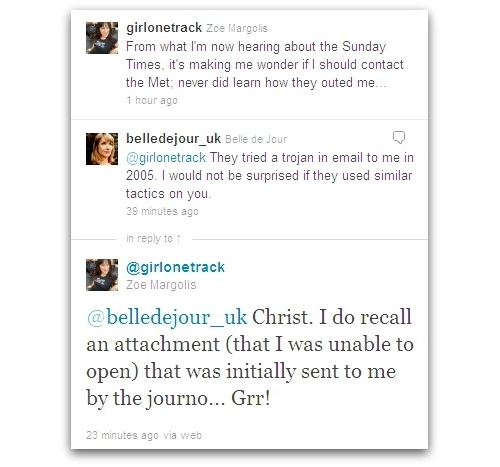 Of course, we need to be very careful before jumping to any conclusions. Malware commonly spreads via email, and email headers can be forged to appear as if they're from someone they're not.
Furthermore, a non-technical user who believes they might be the subject of a media investigation might suspect the worst when in fact there is a much more down-to-earth explanation. Just think of how many times you've failed to get a file to open on your computer..
The tweets don't offer us much information, and it's a shame that the individuals concerned didn't share the suspicious emails with anti-virus experts at the time for analysis. But maybe they still have the messages lurking in their email archive somewhere..
Update: Dr Brooke Magnanti (aka "Belle de Jour") has posted an article on her new Sexonomics blog, giving more details of what she believes was an attempt by a Sunday Times journalist to infect her computer with malware.
Further reading: BBC Panorama investigates News of the World computer hacking.