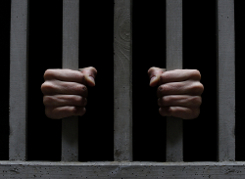 After a little more than a week after disclosure, Apple has patched three flaws in iOS for iPod Touch, iPad, iPad2, iPhone 3GS, iPhone 4 and the Verizon iPhone.
You may recall the return of the website JailBreakMe.com 10 days ago which exploited these vulnerabilities to provide an easy method of jailbreaking your iDevice.
The updated version for all but the Verizon iPhone is version 4.3.4, while Verizon customers can update to 4.2.9. To update just open iTunes, check for updates and plug in your phone/MP3 player/tablet.
This raises one of my big pet peeves with Apple products.. Why do I have to tether to update? Oh! I see you will have that feature in iOS 5? I guess I will stay vulnerable until I happen to be in the same city as my copy of iTunes…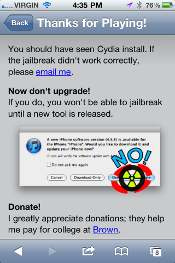 Two of the fixes are for font handling issues in PDFs that allow for remote code execution (RCE). The third fix is in the graphics handling code and can be exploited to allow for elevation of privilege (EoP).
It appears the JailBreakMe.com hack used at least two of the three flaws to jailbreak the iDevices. It initially downloaded a PDF to gain the ability to run arbitrary code and then sent down a PNG file that elevated itself to root to perform the jailbreak.
If your phone is not jailbroken, I recommend updating as soon as possible. If you have jailbroken your device you will need to decide if you wish to trust the unofficial "patch" on Cydia and stay jailbroken, or if you should join the herd and go with Apple.