Over the past few weeks we have been tracking another widespread compromise of legitimate web sites.
Huge numbers of sites have been injected with a malicious JavaScript that attempts to load content from an exploit site when innocent users browse the affected pages.

Compromised pages are blocked by Sophos products as Mal/ObfJS-AB. The scale of the attack is evident when looking through our threat prevalence data – Mal/ObfJS-AB has risen to the top of the web threats, accounting for almost 25% of all reported threats.
Grabbing a batch of the sites hit this week, it is obvious that the compromise has affected a good number of hosting providers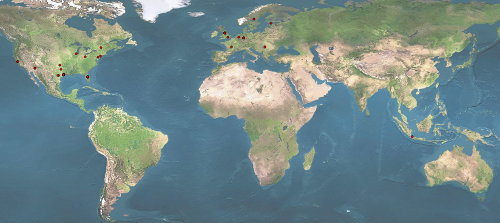 Without access to logs from the sites/servers that have been hit, I cannot state exactly how the sites were hit. Checking some of the recently hit sites suggests the problem is not limited to a specific platform: the host servers are running a mixture of Apache (74%), IIS (13%), something else (7%). (In the remaining 21% of the checked servers, there was no response received.)
The purpose of the compromise is to redirect to an exploit site. A malicious script there (blocked as Mal/ExpJS-N) fingerprints the user's browser and browser plug-ins (PDF/Java) and then attempts to load relevant exploits in order to infect the user with malware. At the time of writing, the payload being delivered is a Zeus (aka Zbot) variant (blocked as Mal/EncPk-AAG).
The various steps involved in this attack are summarised in the diagram below: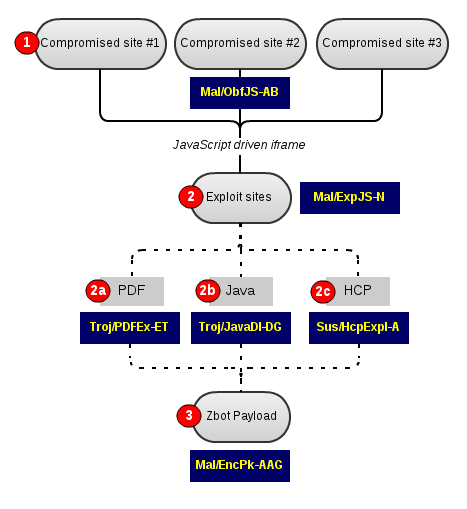 As regular readers will recognise, the attack consists of the usual sequence of steps we typically see for malware delivered via the web.
Note that victims browsing compromised sites will be unaware of all these steps – all the malicious content will be silently loaded by their browser in the background whilst they peruse the original web page.
Perhaps the most interesting thing about this attack is the exploit site JavaScript (the content we block as Mal/ExpJS-N. We have been seeing the same exploit script at the end of spam links and JS/Sinowal-V redirects in recent weeks. The script is heavily obfuscated and uses polymorphic and anti-emulation techniques to attempt to evade detection.