At the end of May, footage of a dad dropping his daughter when he tried to catch a baseball at a LA Dodgers-Florida Marlins game made for a much-viewed video.
Nothing too surprising there, I'm sure you'll agree. It's the kind of video which often becomes popular on YouTube.
However, this weekend, links began to spread on Facebook claiming to link to the footage – for anyone who hadn't already seen it.

I guess catching that homerun was worth his kids brain damage

Dad Drops His Daughter to Try to Catch a Baseball on LIVE TV!
[LINK]
Warning: Mature Content! Ummm what was this guy thinking? We see where his priorities are!
Regular readers of Naked Security will have guessed how this story is going to progress. It is, of course, another survey scam – where scammers drive Facebook users to surveys that help earn them commission.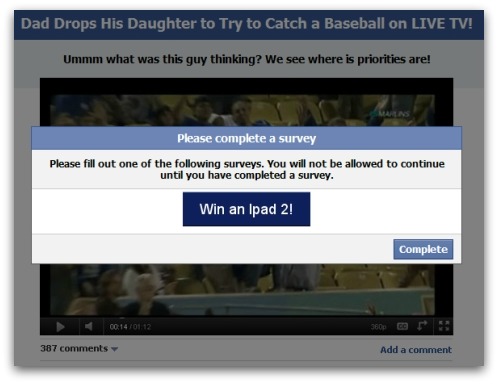 If you got hit by this scam, make sure you have removed the entries from your news feed (to stop them being shared amongst your friends), marking them as spam if you like, and check your profile does not have any unwanted "Likes" under your "Likes and interests".
If you use Facebook and want to get an early warning about the latest attacks, I strongly recommend you join the Sophos Facebook page where we have a thriving community of over 100,000 people.
Hat-tip: Thanks to Naked Security reader Zane for first alerting us to this scam. If you see something that you would like us to investigate, please drop us a line.