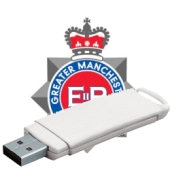 Greater Manchester Police have warned that sensitive information about an ongoing criminal investigation was contained on a USB memory stick stolen from an officer's home in Oldham, UK.
The officer has been suspended, pending an investigation, and the matter has been referred to the Independent Police Complaints Commission and the Information Commissioner.
One big question which has to be answered is – was the personal data contained on the USB stick encrypted?
According to the BBC News report, it may not have been password-protected suggesting that encryption was not being used.
Aside from the issue of whether such sensitive data about an investigation should be left at an officer's home in the first place, why isn't encryption being used as a matter of course to ensure that – even if the information does fall into the wrong hands – it can't be deciphered?
A team of officers are working to identify who is responsible for the burglary and retrieve the red and orange coloured memory stick.
Assistant Chief Constable Garry Shewan was quoted by the BBC as saying:
"I want to reassure residents across Greater Manchester that we are taking this incredibly seriously and we are working hard to both identify who was responsible for the burglary and recover the stolen memory stick. I want to stress that we do not believe the officer's home was deliberately targeted, but that this was an opportunistic burglary."
Police have already spoken to one member of the public whose personal information may have been compromised because of the lost device.
This isn't the first time that Greater Manchester Police has found itself in hot water regarding a lost USB stick. Last year, for instance, a USB stick containing "top secret anti-terror documents" was found dumped on the pavement outside a police station.
A black Volkswagen Golf car, with the registration plate MJ58 JVX, was also stolen in the burglary and police are appealing for anyone who has sighted it to come forward.