Despite the recent arrests of numerous members of Anonymous and Lulz Security they are continuing their mission to expose the governments and their contractors through the "#AntiSec" movement.
Continuing a theme from earlier this year they released ~400 megabytes of data from US government security contractor ManTech. The information was posted to The Pirate Bay with a note similar to previous AntiSec releases.

The statement begins:
"Ahoy thar,

Today is Friday and we will be following the tradition of humiliating our friends from the FBI once again. This time we hit one of their biggest contractors for cyber security: Mantech International Corporation."
Much of the information appears to be related to projects that ManTech is involved in related to NATO and other security projects.
While the information isn't particularly sensitive, the motive of releasing it seems to be to embarrass ManTech and to suggest that they are not capable of delivering quality security services.

Members of Anonymous should be aware that playing defense is significantly more difficult than playing offense. It was only one week ago that their own attempt at a social network, AnonPlus, was hacked.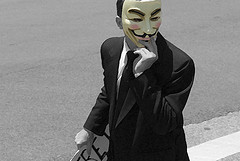 This doesn't change the fact that it is disappointing that a specialist security contractor was breached by AnonyLulz, but unfortunately being the attacker is considerably easier than being the defender when it comes to online security.
Initially there were some rumors circulating that one of the files in the ManTech theft was infected with a Trojan. It appears this was a false-positive by a competitor as SophosLabs have analyzed the file and determined it to be safe.
ManTech have posted a statement on their website assuring their customers that they are actively investigating the validity of the AntiSec claims and are taking appropriate actions to protect their customers and their data.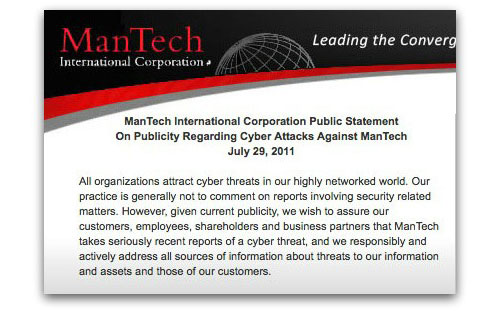 Creative Commons image of Anonymous in Guy Fawkes mask courtesy of Anonymous9000's Flickr photostream.