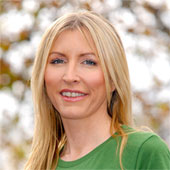 The BBC Newsnight programme has another scoop on its hands, by broadcasting a claim by Heather Mills, the former wife of Sir Paul McCartney, that a journalist hacked into voicemails left by the ex-Beatle on her mobile phone.
What's interesting is that Mills claims that the journalist who admitted the hacking to her was a senior figure from the Mirror group of newspapers, rather than a member of the News of the World that has up until now been at the centre of the phone hacking scandal.
Heather Mills told the BBC that she was called by an unidentified journalist in 2001, who quoted parts of a message that her then boyfriend McCartney had left on her mobile phone after an argument.
Mills, who by all accounts is not someone who you want to get on the wrong side of, frightened off the journalist by saying:
"You've obviously hacked my phone and if you do anything with this story ... I'll go to the police."
The reporter is said by Mills to have admitted hacking her voicemail, and agreed not to run the story.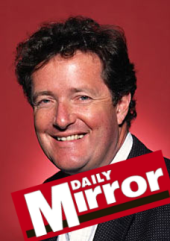 Although the BBC has chosen not to identify the journalist who is said to have called Heather Mills, the timing of the alleged event does shine a light once more in the direction of Piers Morgan who was editor of The Mirror at the time.
Morgan, is now a TV host on CNN, and – as we've explained before – has adamantly denied that any phone hacking took place under his editorship.
Although a BBC spokesperson insisted that the journalist named by Heather Mills was not Piers Morgan, it does appear that Morgan heard the voicemail in question.
In a 2006 Daily Mail article unchivalrously titled "I'm sorry, Macca, for introducing you to this monster", Piers Morgan appeared to describe being played the voicemail message that Paul McCartney had left for Heather Mills: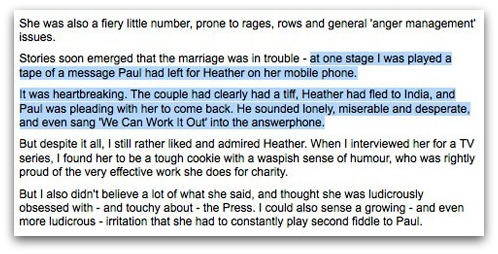 "Stories soon emerged that the marriage was in trouble - at one stage I was played a tape of a message Paul had left for Heather on her mobile phone."

"It was heartbreaking. The couple had clearly had a tiff, Heather had fled to India, and Paul was pleading with her to come back. He sounded lonely, miserable and desperate, and even sang 'We Can Work It Out' into the answerphone."
For his part, Piers Morgan has questioned the credibility of Heather Mills' claims and reaffirmed that he has not been involved in any phone hacking:
"Heather Mills has made unsubstantiated claims about a conversation she may or may not have had with a senior executive from a Trinity Mirror newspaper in 2001. I have no knowledge of any conversation any executive from other newspapers at Trinity Mirror may or may not have had with Heather Mills. To reiterate, I have never hacked a phone, told anyone to hack a phone, nor to my knowledge published any story obtained from the hacking of a phone."
Heather Mills and Piers Morgan seem to be at odds regarding what did or did not occur, but one thing seems clear – the phone hacking scandal is not going away, and continues to make the headlines with its heady cocktail of celebrity, privacy and subterfuge.
Don't wait for the story to untangle itself – acquaint yourself now about how phone hacking works, and how to make sure you're not a victim.