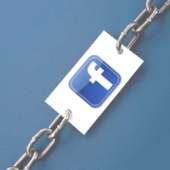 When a social network has more than 750 million active users, it's easy to understand how rumours, scares and falsehoods can spread quickly and out of control.
As well as the Olympic Torch virus hoax that is spreading rapidly today on Facebook, there's another notable chain letter that is being distributed far and wide.
The chain letter asks recipients to pray for an injured child, and pass the message on to other Facebook users: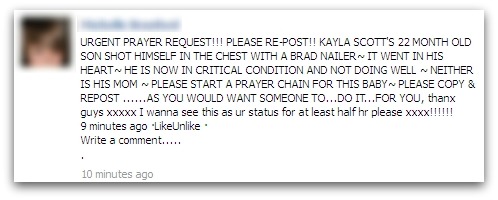 URGENT PRAYER REQUEST!!! PLEASE RE-POST!! KAYLA SCOTT'S 22 MONTH OLD SON SHOT HIMSELF IN THE CHEST WITH A BRAD NAILER~ IT WENT IN HIS HEART~ HE IS NOW IN CRITICAL CONDITION AND NOT DOING WELL ~ NEITHER IS HIS MOM ~ PLEASE START A PRAYER CHAIN FOR THIS BABY~ PLEASE COPY & REPOST ......AS YOU WOULD WANT SOMEONE TO...DO IT...FOR YOU, thanx guys xxxxx i wanna see this as ur status for at least half hr please xxxx!!!!!! GOD ANSWERS PRAYERS
The request for prayer first circulated at least a year ago (when Kayla Scott's son was already listed as 22 months old).
And although the message may have started as a genuine plea for help – no-one seems to know for sure.
I would urge against making a chain letter out of anything (legitimate or otherwise) because chain letters can end up out of control, months or even years after their time has passed.
If you get into the habit of liking or endorsing things online without knowing yourself if they're true, then you can easily slip up and play into the scammers' hands when they mix together a real story with a dodgy link.. and since your friends probably take your likes more seriously that those from random strangers, that puts them at risk, too.
If in doubt, leave it out.
If you feel a spiritual need to do something in this case, you could always pray yourself in more general terms – for example for all children who have been the victims of crazy accidents of this tragic sort, and for their parents – without propagating the chain letter on Facebook.
That way it doesn't matter whether Kayla Scott really exists, and you won't risk keeping a possibly made-up story alive online, but you won't feel bad about "doing nothing" 🙂
By the way, Brad Nailer might sound like a porn star's name, but DIY aficionados recognise it as a handheld nail gun. Hopefully in future, more people will also recognise this plea for a prayer request as a chain letter that probably doesn't really need forwarding on.
It's always good to check your facts before forwarding chain letters and warnings to other Facebook users.
If you want to learn more, you should join the Sophos Facebook page, where we'll keep you up-to-date on the latest rogue applications, scams and malware attacks threatening social network users.