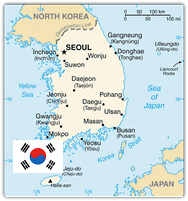 Late last month, we reported on an astonishing data breach in internet-crazy South Korea.
SK Communications, owners of popular search portal Nate and its web cousin Cyworld, a Sims-like social networking site, suffered an intrusion in which the personal information of 35,000,000 Korean users was compromised.
There are only 49,000,000 people in South Korea.
It seems the wheels of justice turn pretty quickly in Korea, with a report from Seoul over the weekend that a court has already issued a summary judgement against SK Communications ordering a ₩1,000,000 compensation payout. The complainant is a 25-year-old man identified only as Chung.
(If you're not familiar with the South Korean economy, that fine isn't quite as dramatic as it might first sound. US$1 is worth just over 1000 Won, so the penalty comes out at a more reasonable-sounding $940.)
But 'Chung' is merely the first complainant. The report claims that a 40-year-old identified as Lee is also pursuing damages against SK. It seems this could be the start of a slew of related cases.
'Lee', who is a laywer, has been more adventurous than 'Chung', factoring in damages for mental stress and asking for three times the payout, at ₩3,000,000.
SK is not the only Korean company in the data-breach headlines lately, with popular streaming media site GOM TV announcing its own breach on the same day that the judgement against SK was pronounced.
Of course, we mustn't forget that SK and GOM TV were both the victims of cybercrime, rather than guilty of deliberately misusing customers' information themselves.
But that will be cold comfort to the companies, who are extremely unlikely to recover any compensation for the mental stress put on them by their attackers.