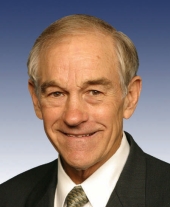 A fundraising drive by Ron Paul was disrupted this weekend by an internet attack against his website.
Texas Congressman Paul, who hopes to win the Republican party's nomination for the United States 2012 presidential election, timed his so-called "money bomb" to coincide with his 76th birthday.
However, a statement on Ron Paul's Facebook page said that the website was under "cyber attack", and that as a result people had not been able to make donations to the campaign's war chest.
The RonPaul2012.com website is under cyber attack. Our team is working to fix this as we speak. So sorry to all who have tried to make donations and could not. We'll have more info ASAP.
There's not much information available regarding the nature of the "cyber attack", but it's natural to assume that the website was targeted by a distributed denial-of-service (DDoS) attack, which flooded the site with unwanted internet traffic making it difficult (if not impossible) for genuine supporters to reach it.
Although some of Ron Paul's supporters posted messages to Twitter accounts affiliated to Anonymous if they were responsible for the attack, no-one appeared to claim responsibility.
Thousands of the politician's supporters left comments on Facebook, some of whom speculated that the site may simply have crumpled under the weight of Ron Paul's fans trying to visit the site to make a donation.
Within a couple of hours, Ron Paul's team said that they had the situation under control.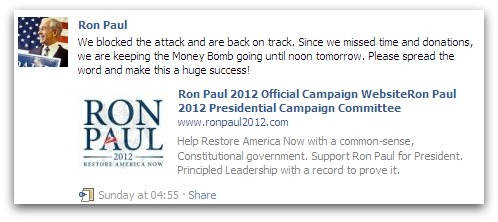 Despite the disruption, it's reported that Ron Paul raised an additional $1.8 million over the weekend.
No organisation likes its website to go down, and it's even worse if your site goes offline through no fault of your own. If you're tempted to engage in a denial-of-service attack it might be wise to remind yourself that you can end up in prison as a result.