Facebook users are sending scary warnings to each other regarding a supposed new piece of malware spreading across the social network.

Attention!!!If you see anyone post out an application written "May God always bless this kind person below with peace, love and happiness", with your profile picture attached below, and send by your friend via Bold Text. Please DONT click "like" or "SHARE", is a spyware, and all your info at FB will be copy and reuse for other purpose. Please share this info out. Thanks......;)
The warnings are being spread rapidly by well-intentioned Facebook users, but the truth is that we have seen no evidence of any such spyware.
Our friends at Facecrooks believe they have got to the bottom of the mystery.
They have determined that rather than a genuine virus, the warning was kicked off by a Facebook application called Bold Text making over-exuberant, if not downright spammy, wall postings.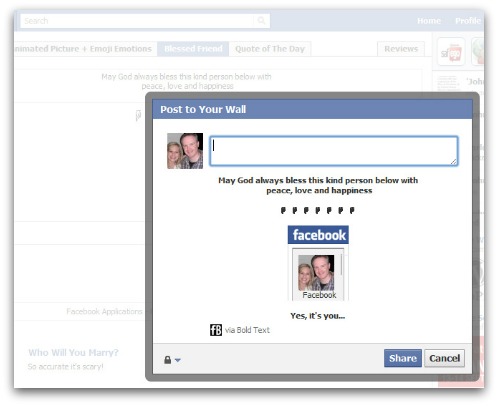 Over one million people are reported to have used the application, so clearly its self-promoting tactics are working.
If you see one of your friends reposting the warning about the 'May God always bless..' message then please tell them that it isn't true that it's a virus, and point them to this article or the information on Facecrooks.
And if you installed the Bold Text application, and aren't enjoying the messages it is posting, you should revoke its access to your Facebook account.
It's not the first time, of course, that Facebook users have been misled of the full facts by virus hoaxes. Most recently we have seen a bogus warning message about an Olympic Torch virus that could "burn the whole hard disc.. C of your computer"
Make sure that you stay informed about the latest genuine scams spreading fast across Facebook and other internet attacks. Join the Sophos Facebook page, where more than 100,000 people regularly share information on threats and discuss the latest security news.