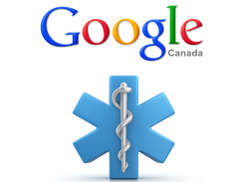 Don't be evil? Don't count on it. Google agreed this week to a $500 million settlement with the US Department of Justice for selling advertisements to Canadian pharmacies through the AdWords advertising network.
Google had been informed as early as 2003 that Canadian pharmacies were illegally shipping prescription drugs to Americans as a result of ads on Google. While Google stopped allowing foreign countries (other than Canada) to place ads for drugs targeting Americans, Canadian pharmacies were allowed to continue the practice.
While many of us in Canada don't see what could be so dangerous about Americans purchasing our drugs at the reduced prices we pay under our system, the issue is far more complicated.
Canadian law protects our drug fulfillment system in a similar manner to the FDA in the United States, but our laws do not apply to drugs being sold by Canadian pharmacies outside of Canada. This allows for largely unregulated pills to be sold to foreigners with little oversight.
Additionally many of these pharmacies did not require US consumers to have a prescription from a licensed physician. For "premium" prices, Americans could acquire the drugs after only a consultation with a pharmacist.
Google not only allowed the continued illegal placement of ads targeting Americans, but documents show that the search giant assisted these pharmacies in bypassing the controls they had put in place to prevent the abuse.
Google was eventually caught in the act during a sting operation conducted by the US Attorney's Office of Rhode Island. Investigators created some fake pharmacy companies to investigate Google's practices for placing advertisements in opposition to their official policies.
The $500 million settlement represented the profits that Google made on the advertisements in question as well as the profits made on the drugs by the pharmacies placing the ads.
The US Department of Justice noted that this is one of the largest settlements in US history and that Google is now complying with US regulations.
It has been reported that Microsoft and Yahoo! were also accepting similar ads, but are not under investigation.