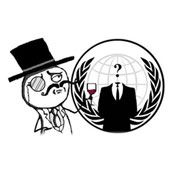 Two men, aged 20 and 24, have been arrested by British police in connection with a series of internet attacks orchestrated by the Anonymous and LulzSec gangs.
Scotland Yard says that the men, who were arrested in Mexborough, Doncaster, and Warminster in Wiltshire, remain in custody for questioning, and are being held at police stations in South Yorkshire and London.
As part of the investigation computer equipment has been seized which will undergo forensic examination by police experts. There is speculation online that the arrests are connected specifically with the criminal activities of a hacker who used the online handle 'Kayla'.
Kayla, alongside the likes of Sabu, Topiary and Tflow, is considered to be one of the key figures in the LulzSec hacking gang.
However, Kayla – who has claimed involvement in the hack against security firm HBGary – has presented herself online to be a giggly 16-year-old girl. Although Kayla has given interviews to the press in the past, "she" has always declined to use Skype to confirm an adolescent female voice.
Many eyes will no doubt be on Kayla's Twitter account to see if any messages are posted following these most recent arrests.

At the time of writing, the most recent tweet from Kayla is dated 1:34 PM UK time, 1 September.
The two arrests follow a series of hacks and denial-of-service attacks against UK and US businesses, law enforcement agencies and government bodies.
Detective Inspector Mark Raymond from the Police Central e-Crime Unit (PCeU) said: "We are working to detect and bring before the courts those responsible for these offences, to disrupt such groups, and to deter others thinking of participating in this type of criminal activity."
Charges brought against other suspects
Earlier today the media reported that 20-year-old Christopher Jan Weatherhead, from Northampton, and Ashley Rhodes, 26, from London, have been charged by police with computer crime offences.
They have been remanded on bail until 7 September. A 17-year-old from Chester and 22-year-old student Peter David Gibson, of Hartlepool, County Durham, are also due to appear at City of Westminster Magistrates' Court on the same day.
Earlier this month the Met Police issued a stark warning to anyone considering supporting internet attacks against companies and governments.
Certainly the police appear to be mopping up a lot of suspected hackers in connection with the Anonymous and LulzSec hacks. If nothing else, that should be something for other budding hacktivists to stew over and perhaps reconsider if it's a risk that they really want to take.