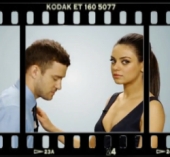 Mila Kunis, the star of movies such as "Black Swan" and "Friends with benefits", is the latest celebrity to be making the headlines over allegations that hackers broke into her mobile phone and stole nude photos.
In the wake of the story about nude photos of Scarlett Johansson, several gossip websites have reported that they were contacted by people offering to sell them pictures stolen from Mila Kunis.
In Kunis's case, the images are said to have been taken from her mobile phone, and apparently show her "Friends with benefits" co-star Justin Timberlake lying on a bed topless, wearing some pink underwear on his head, and an image of Mila Kunis in the bath.
A fourth explicit image is said to feature an intimate part of a man who cannot be identified because his err.. head is out of the frame.
It's also alleged that private SMS text messages between Kunis and Timberlake are available on the internet.
Clearly, there's a continuing theme of celebrities having nude photographs of themselves leaked onto the internet – whether to publicise their careers or latest movies, or to make money for those who stole the images.
Past victims have included Christina Aguilera, Lady Gaga, Miley Cyrus and Vanessa Hudgens.
So, here's my simple advice which I recommend to every Hollywood actor/actress, rapper and TV reality star. Cut it out and keep it in your wallet: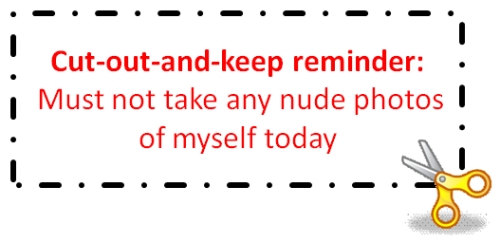 In fact, this is good advice for anyone to remember who finds themselves naked with a camera pointed at them, or is considering taking a self portrait before remembering to put on their clothes.
By the way, it's best to print out this page before you cut-out this advice. You don't want to damage your monitor. And ask a grown-up for help with the scissors.
And that's how you avoid having naked photos stolen by hackers.