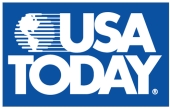 USA Today is the latest high profile Twitter account to have fallen victim to a group of hackers.
A group calling themselves the Script Kiddies have claimed responsibility for the hack, which involved posting a series of messages to the official USA Today Twitter account, including:
"Fox News, Wal-mart, Unilevel, Pfizer, NBC and now USA Today. who's next? Vote now! [LINK]"
and
"Please like The Script Kiddies on Facebook! You could choose our next target!"
Fortunately, USA Today was able to regain control of the account (with some assistance from Twitter) before any serious harm could be caused. The newspaper tweeted an apology to its followers: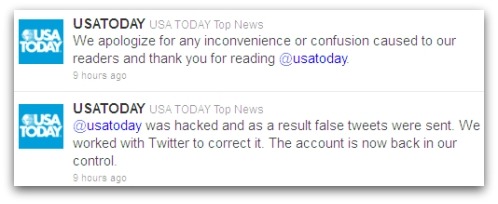 The Script Kiddies group has previously claimed responsibility for hacking into the NBC News Twitter account to post fake news reports of a terrorist attack involving planes in New York, defacing Pfizer's Facebook page and breaking into the Fox News Politics Twitter account to post a bogus announcement about the death of Barack Obama.
It's unclear how the USA Today Twitter account was compromised, but there was speculation that the hack by the same group against NBC News's Twitter account was assisted by a spyware Trojan horse.
The Script Kiddies might believe that their hacks against media organisations are just childish pranks, but it's unlikely that the authorities find them amusing. The more social media accounts that they target, the more the computer crime police will be keen to bring them to justice.
As always, we recommend that social networking users ensure that they keep their security software up-to-date, choose hard-to-crack passwords and do not use the same password in more than one place.