Apple's iPhone 5 is due to be revealed to the world tomorrow, which makes today the perfect opportunity for cybercriminals to take advantage of the excitement and exploit it for their own ends.
Journalist Abram Wagenaar was one of those who has received a malicious email, claiming to be from Apple and giving details of the new "Apple iPhone 5GS". He posted a screenshot on Twitter of what he found in his inbox.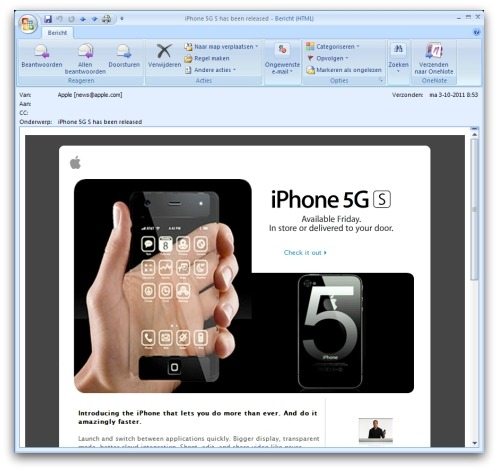 Clicking on links in the email takes you to some Windows malware (lucky Mac fans are being ignored by the hackers on this occasion) which Sophos detects as Mal/Zapchas-A.
Apple product announcements are always big news. And I think we have to accept that it's likely that whenever Apple is scheduled to reveal new technology that cybercriminals will try to exploit the interest.
After all, we saw a very similar attack using an iPhone 5 disguise during WWDC this year. On that occasion, it turned out that Apple *didn't* announce the iPhone 5, but the bad guys were still eager to take advantage of pre-announcement hype.