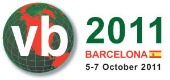 This week there is an opportunity to meet members of the SophosLabs and Naked Security teams at the prestigious Virus Bulletin conference.
The annual conference is being held at the Hesperia Tower hotel, Barcelona, Spain, between 5-7 October 2011.
Every year the great and the good of the malware-fighting world gather to discuss the latest goings-on in the fields of anti-virus, anti-spam, and web protection for Windows, Macs and mobile computer systems.
This year, SophosLabs personnel are presenting three papers and Graham Cluley is on a panel session.
Here are the abstracts for the Sophos-related talks:
On Wednesday: Onur Komili — "Strategies for prioritization of malicious URL re-evaluation"
On Thursday: Brett Cove — "Following the tracks: understanding snowshoe spam"
On Thursday: Graham Cluley — "Operation ShadySHARE – towards better industry collaboration"
On Friday: Stephen Edwards and Paul Baccas — "Fast fingerprinting of OLE2 files: heuristics for detection of exploited OLE2 files based on specification non-conformance"
As normal, there will be other Sophos people around and if you want to talk to us in person then this is your opportunity. Hope to see you in Barcelona!
And don't worry too much if you can't make it to the conference. We'll be live-tweeting from the event using the hashtag #vb2011.