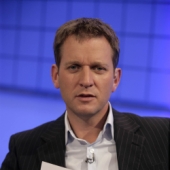 Jeremy Kyle, the UK's answer to Jerry Springer, is the subject of a fast-spreading Facebook scam that claims he was "attacked by a chav".
Jeremy Kyle's controversial and confrontational TV show, which has recently transferred to the United States, pits feuding family members against each other who think nothing of revealing their sex, drug, alcohol and relationship issues with the watching public.
Here are some of the messages which we have seen spreading quickly on Facebook:


Jeremy Kyle gets attacked!!
[LINK]
Watch as Jeremy Kyle is attacked???
Because the message is being shared on Facebook, you might be tempted to click on the link to watch the video. But what would happen if you were fooled into clicking on the link?
Firstly, you are taken to a webpage which urges you to "Like" it and "Share" it with your Facebook friends. The page leads you to believe that if you do this, then you'll be able to watch the video.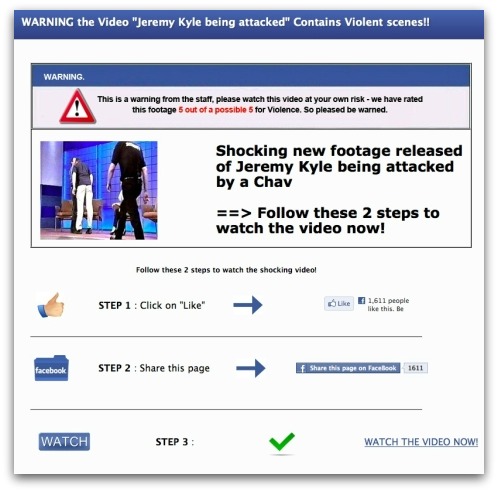 Did you see the warning at the top of the page?
This is a warning from the staff, please watch this video at your own risk - we have rated the footage 5 out of a possible 5 for Violence. So please be warned.
Wow. Sounds like it must be really sensational footage – and perhaps not for those of a nervous disposition. Mind you, if you're a fan of the Jeremy Kyle TV show then chances are that this is precisely the kind of content that you do want to watch.
The next webpage suggests that you are about to watch the video..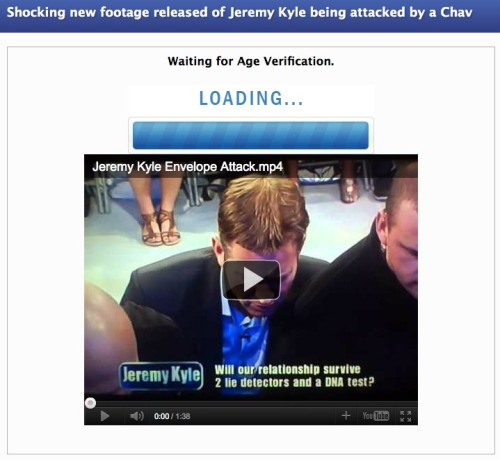 .. but then an "age verification" warning pops up, demanding that you complete an online survey.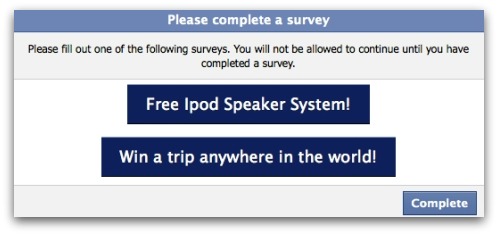 Of course, as we have seen many times before, this is where the scam truly kicks in. The scammers want you to take an online survey, not because it verifies your age, but because the more people they trick into completing the survey the more affiliate cash they earn.
And you have just helped them share the link to even more Facebook users.
What's surprising to me is that Jeremy Kyle (who I assumed would only appeal to a small audience – more fool me..) has been the subject of a Facebook scam before.
Make sure that you keep informed about the latest scams spreading fast across Facebook and other internet attacks. Join the Sophos page on Facebook, where over 100,000 people regularly share information on threats and discuss the latest security news.