Do you ship packages via UPS? Do you have an account to track packages and authorize shipments? If so you should be on the lookout for a new phishing spam making the rounds.
The email comes from an account that appears to be "UPS Communication" with the subject of "Important Update". The email reads:
"Please note that we have made new and important changes to your account.

Login to view new updates. MY UPS

© 2011 United Parcel Service of America, Inc. UPS, the UPS brandmark, and the color brown are trademarks of United Parcel Service of America, Inc. All Rights Reserved."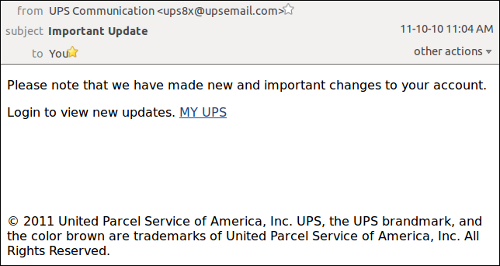 The link MY UPS leads to a compromised website in the Seychelles. It appears the attackers have exploited a vulnerability in the Joomla CMS installed on the host.
The webpage is actually a screenshot of the real My UPS website with the form fields for login inserted in the correct location.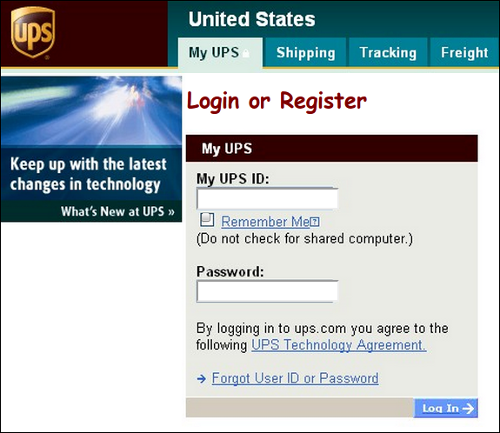 Sophos Web Security customers are protected against this scam as well as users of Google Chrome, Firefox and Safari through the Google Safe Browsing service.
It appears the Internet Explorer phishing filter is not yet detecting this page as a phishing site.
It is unlikely the phishers are really trying to access your UPS account, but rather are counting on the fact that most users reuse their usernames and passwords for multiple sites.
As usual the best defense is to never click a link in an email. If you think you are receiving a communication from an organization you do business with, do the safe thing and open your browser and type in their address directly into the location bar.
Update: It has come to my attention that money laundering schemes known as "reshipping" may wish to use purloined UPS accounts as a part of their scams. Brian Krebs has posted a post detailing this process called "Shady Reshipping Centers Exposed, Part I".