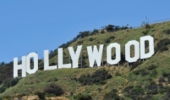 Nubile female film stars will be breathing a sigh of relief today at the news that the FBI has arrested a man suspected of hacking into celebrity's phones and emails accounts and stealing their invariably nude photos.
35-year-old Christopher Chaney, was arrested in Jacksonville, Florida according to an FBI statement. If found guilty of all 26 indictments, including accessing computer systems without authorisation, wire tapping and identity theft, Chaney could face a maximum of 121 years in prison.
Police believe that Chaney scoured the internet for information about his victims, which then helped him gain control of their email accounts. To me that sounds like a re-run of the same password reset trick which broke into Sarah Palin's and Paris Hilton's online accounts a few years back.
If you're a hacker who has gained access to your email account, it can be simple to automatically forward every message received by your victim to another email address under your control.

This means that hackers can continue to have access to your email, even after you might have changed your password.
The FBI's invesigation into the hacking incidents, dubbed "Operation Hackerazzi", has certainly been pressured to catch those responsible as news of the celebrity hacks made lurid tabloid headlines around the world.
Famous victims of hacking have included Scarlett Johansson, "High School Musical" star Vanessa Hudgens, Christina Aguilera, Lady Gaga and Miley Cyrus.

In all, more than 50 victims have been identified by "Operation Hackerazzi".
Nude photos of the celebrities have ended up plastered across the internet, following the hacks which often also exposed lurid text messages and emails that the Hollywood celebrities would probably have preferred to remain private.
Celebrities may have enormous privileges, but they deserve privacy as much as the rest of us when it comes to their personal photos, phone calls, email messages and texts.
If it is shown that sloppy security practices resulted in celebs' email accounts being hacked then there will be an important message for all computer users. After all, it's not just celebrities who have their accounts broken into.
There's another very simple lesson that everyone could benefit from too: if you must take nude photos of yourself, don't leave them on your phone or store them in your email.
Here's the foolproof cut-out-and-keep guide I offered Mila Kunis, but it actually works for anyone who is worried that hackers may steal their nude photographs: